Tip Sheet: Five Steps for Engagement in a Patient-Centered Practice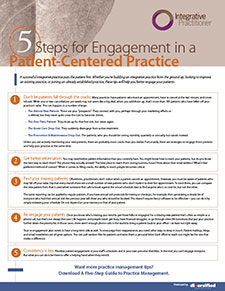 Integrative Practitioner is pleased to offer you this exclusive free tip sheet to help you get started improving your patient practice. Whether you're building an integrative practice from the ground up, looking to improve an existing practice, or joining an established practice, these five steps will help you succeed and better engage your patients.
Want more practice management education? Download our recently released e-book, The Five-Step Guide to Practice Management.
Thank you for downloading!