Diagnostic Solutions Laboratory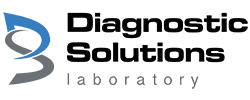 Diagnostic Solutions Laboratory was founded to bridge the gap between healthcare providers and the clinical laboratory. Our commitment is to serve the clinical needs of the health care provider with cutting-edge laboratory medicine by utilizing proven methodologies that are accurate and reliable. By working with experienced clinicians and opinion leaders throughout multiple medical disciplines we are able to build assays that are clinically relevant and provide actionable results.
Since the introduction of the GI-MAP™ (GI Microbial Assay Plus) in 2015, Diagnostic Solutions Laboratory has established itself as the leader in quantitative PCR GI testing. With a commitment to research, and by using the latest in qPCR technology, we have experienced unparalleled growth while providing our practitioners with the most sensitive, specific and diagnostically relevant GI stool testing results available.
Now, Diagnostic Solutions Laboratory is once again at the forefront of laboratory science, bringing clinicians the latest revolutionary clinical assessment tool, the CytoDx™. With an assessment of 16 key serum cytokines, the CytoDx™ provides clinicians with powerful insight into their patient's systemic immune regulatory function, allowing for advanced health assessment and individualized treatment plans based on specific immune responses.
---