Histamine Rising: The Role of Dysbiosis and GI Dysfunction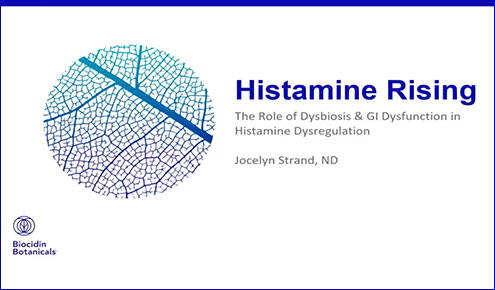 Sponsored by Biocidin Biobotanicals
The complex physiology and random clinical symptoms of histamine dysfunction can leave you scratching your head! Jocelyn Strand, ND, Biocidin Botanicals' Director of Clinical Education & Research, will discuss an often-overlooked piece of the puzzle – the microbiome's integral role in histamine production and metabolism. She will also share Biocidin Botanicals' latest pilot research and exciting.
Learning Objective #1: The physiological effects of histamine
Learning Objective #2: Histamine intolerance symptoms
Learning Objective #3: Underlying causes of histamine intolerance
Learning Objective #4: Simple, effective protocols to address histamine issues
Speaker:
Jocelyn Strand, ND
Jocelyn Strand, ND, is Director of Clinical Education and Research for Biocidin Botanicals. She monitors and participates in research, trains clinicians, and is a respected and engaging speaker. Before joining Biocidin Botanicals in 2019, Dr. Strand was a primary care provider in private practice for 11 years specializing in GI system disorders, Lyme disease, and autoimmune conditions.
This presentation was originally offered at the 2023 Integrative Healthcare Symposium in New York City.