The Gut-Skin Axis: The Role of Gastrointestinal Health in Dermatological Conditions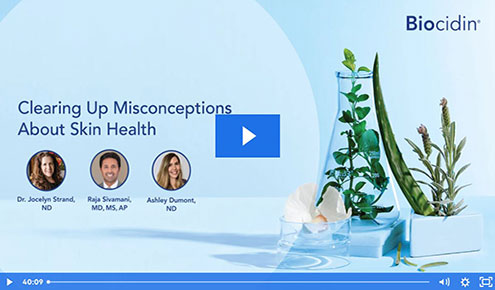 When treating skin conditions, the first reaction may not be to think about gut health. Growing research indicates it should be.
Without dismissing the importance of topical therapies, the latest medical literature indicates the health of the gut microbiome is equally essential when treating conditions like acne and rosacea.
In this video, Dr. Jocelyn Strand, Biocidin's Director of Clinical Education, talks with Raja Sivamani, MD, and Ashley Dumont, ND. Both are practitioners with Pacific Skin Institute in Sacramento, CA.
Listen in to their enlightening conversation as they discuss the latest studies on the gut-skin axis, including collaborative research between Biocidin® and Pacific Skin Institute.
They will cover:
What is the gut microbiome?
Gut connection with the skin
Gut microbiome changes in acne
The connection between SIBO and Rosacea
Case studies on SIBO with two botanical protocols
Also, all three doctors share clinical pearls gleaned from their many years of experience.