#141 - Exploring the benefits of ecological medicine
Tristian Rowe, ND, joins Integrative Practitioner associate editor, Avery St. Onge, to discuss what ecological medicine is, its benefits, and simple ways integrative health professionals can include ecological medicine in their own practices.
Find us at integrativepractitioner.com or e-mail us at [email protected].
Theme music: "Upbeat Party" by Scott Holmes via freemusicarchive.org and "Carefree" by Kevin Mcleod via incompetech.com.
---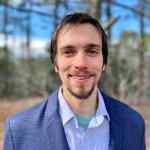 Tristian Rowe is the founder of Ecologic Medicine, Maine's first ecologically focused medical practice. Licensed as a Naturopathic Doctor in Maine, he works with his patients to unite all aspects of health: personal wellness, community, and the local environment. Having a strong belief that nature nourishes all aspects of our being, he focuses on establishing the true root cause of illness. This often involves both a medical approach and systems ecology.
His medical education was at the National University of Natural Medicine in Portland, Oregon. There he had the opportunity to be trained by the world's leading experts in natural medicine in both primary care and integrative medical clinics throughout the Pacific Northwest.
He is working to build a healthier Maine by integrating naturopathic medicine, habit change and sustainable community resiliency.