When Opportunity Comes Knocking: IHPC Seeks Integrative Health Policy Leader
by John Weeks, Publisher/Editor of The Integrator Blog News and Reports
At the May 2016, International Congress for Integrative Medicine and Health, the word got out that
Alyssa Wostrel, MBA, CHC
(pictured below) was stepping down as executive director of the
Integrative Health Policy Consortium (IHPC).
  For 15 years, IHPC – with its
19-organization Partners in Health
members -- has been the leading interprofessional policy force for the integrative health field. IHPC is seeking a dynamic leader to help guide the remarkable assembly of players - see list below - to a new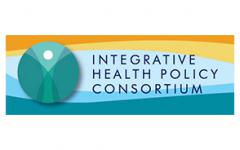 level of activity and success. In the four years in which Wostrel has partnered closely with Len Wisneski, MD, board chair, Pamela Snider, ND, vice-chair, executive committee member Bill Reddy, LAc and others, IHPC has been instrumental in multiple advances for the field. The organization unified around the
CoverMyCare
campaign, based on Section 2706 of the Affordable Care Act. The goal is to support state and federal activity to end discrimination against integrative health practitioners. IHPC has met with or petitioned multiple federal agencies on the topic. In
a statement from IHPC
, vice-chair Snider said "Alyssa's grace, growth and servant leadership during the dynamic period post inclusion of integrative health in US

national law under the Affordable Care Act has been an inspiration." She adds: "Her collaborative leadership and 'IHPC voice' in key national forums is deeply respected and appreciated by our diverse IHPC community." During Wostrel's term, IHPC also took the lead in developing a critically important
cost-effectiveness booklet
that is a tool for any policy efforts in the arena. Reddy coordinated the production of
strong comments
to the National Center for Complementary and Integrative Health 2016-2021 Strategic Plan. The organization was an early backer of the
unifying September 2014 policy symposium
at Georgetown in honor of retiring US Senator Tom Harkin, a close IHPC ally. In addition, IHPC partnered with the Academic Consortium for Integrative Health and Medicine on the 2016 Congress noted at the top of this article and is in a similar role with the May 3-5, 2017
World Congress on Integrative Medicine and Health
in Berlin, Germany. IHPC forged a relationship as a policy partner with the Academy of Integrative Health and Medicine. Perhaps the most remarkable development in the Wostrel era is the gathering strength of the foundation on which IHPC's new executive director will be able to push policy activity. The following are IHPC's 19
Partners for Health
– up from just 8 when Wostrel took her position.
IHPC is currently being led through the transition by integrative health veteran
Susan Haeger
, a former consumer member of the IHPC board of directors.  Says "IHPC is poised for exponential growth and impact in the years to come and I'm pleased to have played a role in the continuity of IHPC's excellent work," said Wostrel.  "The organization is in good hands with Interim ED Susan Haeger and I look forward to seeing what comes next." Len Wisneski, MD, the IHPC chair, also extends his thanks to Wostrel, then turns his view to the future. "Our dynamic increase of Partners for Health members demonstrates the readiness of the integrative health and medicine community to influence and effect transformative change, removing barriers to health for all Americans."
Comment
: A job like this can be wonderful life work for the right person who combines a love of strategic game-changing policy with passion for the integrative health field, pleasure in fostering collaborative action and is fueled with a hustling, entrepreneurial spirit. IHPC would probably take the right 3 out of these 4. It is a role through which Wostrel, and the director who came before her -  
Janet Kahn, PhD
-- each had substantial impact on policy developments. Who do you know who might like this unique opportunity for significant change agency? Is it you?