Tucson naturopathic doctor serves MBSR program to 650th veteran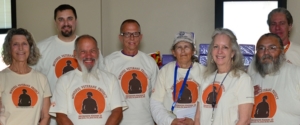 In 2008, Tucson, long-time Arizona naturopathic doctor Teri Davis, ND, told friend USMC Vietnam veteran, Richard Vandemark, that she wanted to start a program for veterans through her Purple Mountain Institute (PMI).
Vandemark immediately guided Davis to the Mindfulness-Based Stress Reduction (MBSR) program developed by Jon Kabat-Zinn, PhD, according to the story on the PMI website. "Teach MBSR," he said. "It's the only thing that ever helped me."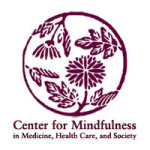 Davis decided to follow Vandemark's lead. The ex-Marine proceeded to fund Davis' travel to Massachusetts and her tuition to study with Kabat-Zinn. She became certified to teach MBSR through the Center for Mindfulness in Medicine, Health Care, and Society at the University of Massachusetts Medical School. Vandemark continued to support Davis' follow-up continuing education through 2013, when he died of amyotrophic lateral sclerosis (ALS) or Lou Gehrig's disease—a condition that was presumed by the U.S. Department of Veterans Affairs (VA) to be due to his exposure to Agent Orange while in Vietnam.
Vandemark's decision proved to be a fine investment. Davis recently reached a milestone in her donation-funded MBSR program through PMI, teaching over 1,000 people, two-thirds of whom are veterans. Her referrals come mainly from the Southern Arizona VA Healthcare System, the Tucson Vet Center, the Davis-Monthan Air Force Base, Fort Huachuca, and from the word-of-mouth of veteran MBSR graduates.
While the quantity of those taught is remarkable, even more so are the data. Davis runs a low-overhead operation. She shared her two-fold brochure on the Mindful Veteran's Project. One panel describes the MBSR program. To keep from re-print costs, handwritten notes updated the organization's phone and e-mail.
Yet, when asked for evidence on the outcomes of her provision of MBSR—few clinicians have such data—Davis quickly e-mailed participant self-reports from a total of 118 who fully filled out the pre-and-post forms. Roughly half were veterans. In addition, 44 percent were female. The results came in for each year, together with a composite for 2011 through 2016.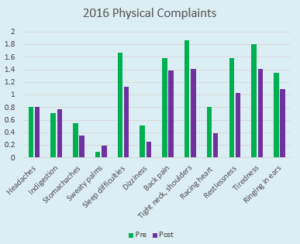 For 2016 patients, participants reported two areas when impacts appear negative, "indigestion" and "sweaty palms."
The results are compelling. They report 38 measures from the MBSR program's standard self-report instrument. These range across four general areas of interest, revealing the breadth of potential value for these mind-body interventions, which include physical, cognitive, emotional, and behavioral methodologies. In each case, the five-year data showed the needle moving in the right direction.
Particularly compelling changes were reported in some areas:
Physical: Sleep difficulties, restlessness, and tiredness.
Cognitive: Traits such as "trouble thinking clearly" and "inability to make decisions" got much better. while level of worry and sense of humor were each enhanced.
Emotional: Anxiety, boredom, edginess, loneliness, and quickness to upset.
Behavioral: The most significant improvement was related to "inability to get things done."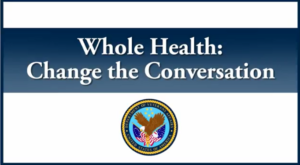 Davis says that, in the beginning, she experienced a significant drop-out rate—of up to half—although she estimates that some 50 percent of these came back later. She has a theory that "sometimes getting quiet and turning inward is a little too freaky at first."
Some, she adds, "titrate the practice for themselves - do more work on their own, get more stable, then try again. I think mindfulness is a bell you can't un-ring, but some of them wait a while to ring it again."
Now, a decade into offering MBSR and perhaps in part due to her own growing experience, drop-out rates are lower. She estimates the rate down to about 25 percent. Davis believes that the fact that the program is free increases the drop-out rate. But the fact that it is free is what makes it particularly attractive for the referrals from the VA hospital and Vet Center.
Comment: At a recent meeting of the International Association of Yoga Therapists, I met the director of a significant yoga program for veterans that was then not formally linked to the formal Integrative Health Coordinating Center at the VA. An integrative naturopathic physician in Seattle, who works with a machine on neuroimaging, believes her modality could have value for the head trauma in the veterans' population. Then I learn of Davis' program in Tucson, also encountered at a recent meeting. One wonders how many scores of small programs are percolating here and there throughout the U.S., or waiting in the wings, outside the registry of even the VA's growing program, through which integrative health practitioners are, or could be, serving veterans.