Tipping point for opioids and integrative pain care in JAMA Network?

by 
John Weeks
, Publisher/Editor of 
The Integrator Blog News and Reports
The title of the
November 2, 2016 perspective
in the
Journal of the American Medical Association (
JAMA) says it all -- "As Opioid Epidemic Rages, Complementary Health Approaches to Pain Gain Traction." The author, a health and science writer named
Jennifer Abbasi
, begins to
bridge the policy chasm
between emerging science on complementary and integrative approaches for pain and their virtual exclusion from consideration in the nation's policies to limit opioid abuse. Abbasi begins her column with the remarkable review of clinical evidence on integrative approaches for pain recently published in
Mayo Clinic Proceedings
. The team of scientists at the National Center for Complementary and Integrative Health of the National Institutes of Health was led by
Richard Nahin, PhD, MPH
. The team's practical goal was to provide good decision making evidence, all in one place, for primary care practitioners. They reported evidence from 105 integrative pain related randomized controlled trials (RCTs) performed in the United States. One value of Abbasi's work was the frank presentation, at JAMA, of integrative health strategies in the context of the opioid crisis. Government strategies including a CDC guideline and an $1.1-billion initiative to from the Obama administration

paradoxically highlighted non-pharmacological approaches as first line tools yet were
virtually mum on integrative strategies
. In contradistinction, Abbasi ticks off the following list of integrative strategies that were reported by the NCCIH team in the Mayo article as having what Nahin calls a "preponderance of positive versus negative studies." These "may help some patients manage certain painful conditions." The list is:
Acupuncture (back pain, osteoarthritis of the knee)
Massage therapy (neck pain - with adequate doses and for short-term benefit; back pain)
Osteopathic manipulation (back pain)
Relaxation techniques (severe headaches and migraine; fibromyalgia)
Spinal manipulation (back pain)
Tai chi (osteoarthritis of the knee; fibromyalgia)
Yoga (back pain)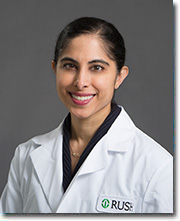 Abbasi's welcome, practical approach drives immediately to an access issue that restricts primary care practitioners and others from referring for these non-pharmacological, integrative approaches: the lack of insurance coverage. A physical medicine and rehabilitation orthopedic physician at Midwest Orthopedics at Rush in Chicago,
Madhu K. Singh, MD
(pictured), praised the NCCIH review. She then "pointed out that many of the approaches aren't feasible for patients because insurance companies by and large don't cover them." "Physicians are often backed into a corner when dealing with a patient's pain," she said. Abbasi then turns to a higher authority to effectively call for a change in reimbursement patterns. She cites the 2011 Institute of Medicine national blueprint for pain that includes
multiple references
to the potential value of integrative health strategies. She notes that the report "emphasized a model of 'integrated, interdisciplinary pain assessment and treatment' that includes complementary and alternative medicine [and] recommended that reimbursement policies should be revised to accommodate this approach."
Comment
: This is, of course, merely a perspective. Yet there it is at JAMA – and bringing together the NIH-JAMA-Mayo triumvirate then adds the IOM reference as icing. The message is clear:  "Hey people, maybe we are not yet leaving no stones unturned in responding to the death and destruction that comes from running failing to use less invasive strategies first."
The presence on the JAMA site must have been a slap to the anti-integrative care academics whose biased and thoughtless blasting of the Nahin paper I recently focused on in
Polarization-Based Medicine: Protests Against the Mayo-NCCIH Pain Guidance Evoke the Bigotry of the Political Season
. Abassi missed a chance to make an additional point. If
Section 2706 of the Affordable Care Act
- "Non-Discrimination in Health Care" - had in fact been implemented since 2010 along the lines intended by former US Senator Tom Harkin and the other Section 2706 backers, good ground could be gained in fixing the reimbursement obstacle. The tools are coming together for this leading edge of the integrative movement to become standard of care. Credit Abbasi. Credit NCCIH. Credit JAMA.