Book Review: The Paleo Project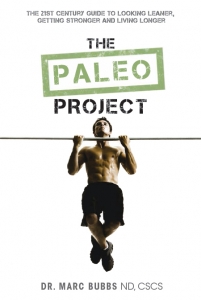 Dr. Marc Bubbs is a Naturopathic Doctor, Sports Nutritionist, Strength Coach, prominent speaker, and Sports Nutrition Lead for the Canadian Men's Olympic Basketball Team. He regularly consults with professional athletes and sports teams including NBA, MLS, MLB, and NHL, and supports individuals of all levels reach their health and performance goals.
In his book The Paleo Project: The 21st Century Guide to Looking Leaner, Getting Stronger, and Living Longer, Dr. Bubbs describes how it's increasingly difficult to maintain ideal bodyweight, feel happy and vibrant, and fight off pain and chronic diseases. If you simply go with the flow—consuming processed foods and struggling to find time to move and play—you'll get swept away by the current of weight gain and poor mental, emotional and physical health.
The Paleo Project uncovers how an ancestral approach to eating dramatically affects key systems in your body. Extensively researched and packed full of assessments, lab tests and action plans, this book is an essential guide for anyone who wishes to achieve their weight loss and performance potential.
Shortlisted for the 'Best of 2015' book award by Paleo Magazine, The Paleo Project has received high praise from athletes, personal trainers, health practitioners, and countless individuals who have transformed their lives through this detailed roadmap to improved health and greater results.
Dr. Bubbs believes we are all athletes. We were born to crawl, squat, bend, run, jump, smile and laugh along the way. These qualities are effortless and natural when we are children, yet somehow we lose touch with them as we get older. Begin The Paleo Project and reconnect with your "inner athlete" to build a better brain, a better body, a better you. Dr. Bubbs' innovative system has proven to be a game-changer for countless patients and athletes. Make YOU your project for this year!
Order The Paleo Project at any of the online booksellers below:
Praise for The Paleo Project
"I LOVE, LOVE, LOVE the PALEO PROJECT!"
-Dr. Grace Liu, the "Gut Goddess"
"ATHLETES NEED TO READ the Paleo Project, you outdid yourself again Dr. Bubbs!"
-Joel Ward, San Jose Sharks (NHL)
"EVERYONE can BENEFIT from the Paleo Project—whether you are an elite athlete, trying to lose weight, or simply want to prevent chronic disease"
-Dr. Rachelle Viinberg ND, 2012 Olympic Silver Medalist
"Dr. Bubbs helps you understand WHAT IS GOING ON IN YOUR BODY and will help you figure out the direction you need to take to benefit your health and performance for the long run. Dr. Bubbs is an incredible knowledge base. The RESULTS speak for themselves!"
-Amanda Kotel, Pro Figure Model & Coach
"An expert Naturopathic Doctor and Strength Coach, Dr. Bubbs fuses the most important aspects of nutrition, fitness and functional medicine. Dr. Bubbs makes it easy to understand your health, look good and feel great!"
-Erin Wiley ND, Founder of the Integrative Health Institute
"Dr. Bubbs' work is a thorough navigational guide to the elegant complexity of personal health. I will keep the book handy as a good reference text!"
-Deborah Gordon MD, Integrative Health Expert
About the Author of The Paleo Project: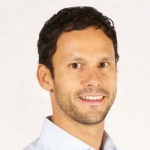 Dr. Marc Bubbs, N.D. is a board-certified Naturopathic Doctor, Strength Coach, Speaker, and Blogger, practicing in Toronto, Canada, where he has been named as one of the top 20 naturopaths by Crowd Wellness. He is the Sports Nutrition Lead for the Canadian Men's Olympic Basketball Team, and consultant to a number of professional sports teams.
Dr. Marc Bubbs has been working with athletes, active people and those striving to improve their health for over a decade and is passionate that diet, exercise and lifestyle are the MOST powerful tools for improving your overall health, body composition and performance.
He is a regular contributor to Breaking Muscle, Paleo Magazine, PaleoDiet.com, Paleohacks, Primal Docs, the Natural Path and Healthier Talks, as well as a nutrition advisory board member for Strong Magazine. Dr. Bubbs regularly presents at health, wellness and fitness conferences across North America and Europe and sees patients out of the Sport Medicine Clinic at the Toronto Athletic Club in downtown Toronto.