10 Years of Integrative Medicine
by John Weeks, Publisher/Editor of The Integrator Blog News and Reports
Spanning 10 years of integrative medicine coverage, the Integrator Blog, which I began publishing in 2006, officially turned 10 on March 27, 2016. The first issue carried news of the Bill Moyer's special on The New Medicine, funded by the Bravewell Collaborative of philanthropists for integative medicine. The subsequent decade of Integrator content has produced 8.5-million page views on 850 distinct posts and nearly 2,700 separate news items. Many of these were in Integrator Round-ups that were co-posted with IntegrativePractitioner.com over the last 7 years.
Top 12 Stories from 2006-2016
So what does reader interest say about the decade of history? I recently completed an analysis of top stories via page view statistics. Below is a weighted Top 12 of stories based on reader interest and response relative to the time since posting.
""Strategic Shift: Weil's Arizona Center Leads Push for MD Board Certification in Integrative Medicine" (September 2011). This was through the American Board of Physician Specialties and what would become the American Board of Integrative Medicine (ABoIM). This article was followed by two widely read "Integrator Forums" on the issue, with 20 perspectives here and an additional set here.
"Reference Guide: Language/Sections on CAM and Integrative Practice in HR 3590-Healthcare Overhaul" (May 2010)
"Oops, They Did It Again: Open Letter to the New NCCAM Director, Josephine Briggs, MD" (January 2008) The post was sent on the occasion of the naming of the second director of what is now the NIH National Center for Complementary and Integrative Medicine (NCCIH).
"Re-Naming NCCAM: Taylor Walsh Covers Discussion of 'NCRCI' at the National Advisory Council for CAM" (2014). The NCRCI – National Center for Research in Complementary and Integrative Health - was a name the agency was trying on prior extracting "research" and re-branding to "NCCIH." (This is one of multiple Taylor Walsh columns that were all widely read.)
"Alert: IHPC Launches Campaign with Insurance Commission Deborah Senn to Secure Non-Discrimination" (2013). This announced the stake put in the ground by the Integrative Health Policy Consortium to focus on making this part of federal law meaningful.
"Integrator Forum: Does Bravewell's 'Integrative Medicine in America' Portray IM in America?" (2012). The report profiled 28 centers based in academic and other medical delivery institutions. This was followed by a robust reader response here.
"ACCAHC Sponsors Integrative Health on the IOM Global Forum on Innovation in Professional Education" (2012). The report is from a consortium, now called the Academic Collaborative for Integrative Health (ACIH ),that provides the only integrative health representation on this key IOM interprofessional forum. A following report in 2013 on interprofessionalism in another IOM Forum meeting also stimulated high readership.
"Integrator Report: Complementary and Alternative Medicine Inclusion in the IOM Nat'l Pain Blueprint" (2011) was a resource created to document the extent to which this strategy included integrative medicine and health.
"IAYT-Sponsored Series on the Future of Yoga Therapy" (2007) was an early, contracted work from the International Association of Yoga Therapists
"The AMA's $70-Million Taxation without Representation: Is it Time for a 'CPT Party' Revolt?" (2010) This was followed by an 18-voice Readers Comments, also widely read.
"The World You Are Entering: My 2013 NYCC Commencement Address to Integrative Health Graduates" (2013) – pleasing to me to see that this perspective on the state of the field, as offered to these graduates, captured strong interest.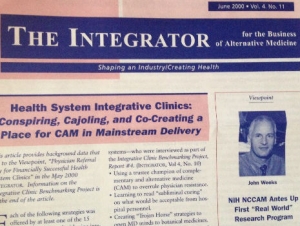 Comment: Looking back at these ten years sent me recollecting back further, to the prior ten. I first began regularly chronicling the field in 1995 with a monthly column, Charting the Mainstream, in the Townsend Letter for Doctors. This was just after David Eisenberg, MD and his Harvard team shocked the medical industry with news that a third of adult Americans were using some "unconventional medicine." In 1996, as the medical industry awakened, St. Anthony's Publishing invited me to write a $200/year hard-copy newsletter that I subsequently purchased and re-named The Integrator for the Business of Alternative Medicine. Premier subscribers received an electronic chronicle, the Industry Health News Files (1999-2002). When I returned in 2005 from 3 years of a working sabbatical with my spouse and two young children in Costa Rica and Nicaragua, a mentor, Clem Bezold, PhD, suggested I start a blog. Thus the Integrator was born.
My pride in this work is helping make connections that support the field's emergence. One example is the integrative medicine for the underserved leader Myles Spar, MD, who once recalled the role of the Integrator in his transition from regular medicine: "When I began my self-training in integrative medicine in earnest and looked for a road map to guide my training and found The Integrator Blog. It showed me that there was a community of like-minded practitioners and helped me find my way." Other praise came from Boston Medical Center's Rob Saper, MD, MPH, who said that "the insight and writing in The Integrator Blog document our course while challenging us to move forward." (Both quotes were cited in this document.)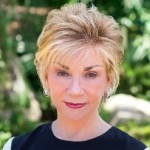 We've come a long way! The Integrator's contributions have been possible through the 8-year partnership with IntegrativePractitioner.com, and through some generous multi-year sponsorships from Lou Sportelli, DC and the NCMIC Group; Richard Sarnat, MD and the AMI Group; and Peter Amato of Inner Harmony Wellness. A wonderfully generous investment from Ruth Westreich (pictured right) for 2015-2016 is also fueling the work. What will the top stories for the next decade be?