Status report on Academic Consortium for Integrative Medicine and Health

by 
John Weeks
, Publisher/Editor of 
The Integrator Blog News and Reports
I recently recalled an encounter with my colleague, 
Ira Zunin, MD, MPH
, from 20 years ago, in the early days for organizational formation in integrative medicine. Back then, it was nearly impossible to imagine that now, in 2017, an integrative medicine organization representing some 70 medical schools and delivery organizations would exist. Zunin mentioned a new organization that had recently formed, now called the
Academic Collaborative for Integrative Medicine and Health
. This group, according to Zunin, will be the dominant player in the healthcare field. The most
recent annual report
of The Consortium, which the organization is often referred, provides a window into the current state of the group.  The organization operated in a deficit on a budget of roughly $1.45-million. Dues represented just $172,000 of income. The 2016
Congress Summary Report is here
.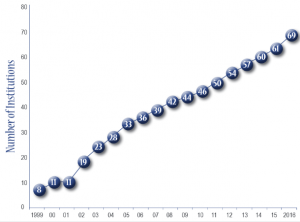 The organization has shown a straight-line, year-to-year increase in membership since the first eight academic health centers held a preliminary meeting in 1999. In FY 2016, they gained six new health system members and added two new academic health centers to close at 69 organizational members. Included
among members
are most of the nation's top medical centers including Hopkins, Harvard, Duke, Cleveland Clinic, Yale, Mayo Clinic, Stanford, Columbia, Vanderbilt and significant public academic health institutions such as those at Michigan, Arizona, New Jersey, Minnesota, Wisconsin, Oregon, Vermont and multiple University of California institutions. The Consortium meets annually. At the most recent gathering, 59 member organizations were represented, through 165 registrants. During the year, institutional representatives also gather regularly via webinar. Much of the Consortium's activity is organized through its internet-based Working Groups. These are organized in the areas of Clinical, Education, Research and Policy. Policy is a growing area of interest. The report notes that the Consortium has "responded to several calls to sign on to various letters that supported the advancement or enhancement of integrative health policies and initiatives." One area of particularly important activity was an "ongoing
appeal to the Joint Commission
to score evidence-informed non-pharmacologic therapies for pain."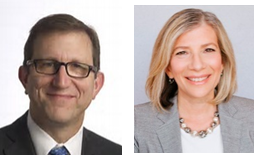 In the message from chair
Robert Saper, MD, MPH
, he speaks to the most significant public policy issue with which the Consortium is involved. "We are all aware of the compelling opioid problem our society and health care system is facing," Saper writes.  He also notes that "little attention has focused on alternatives to opioids, particularly evidence-based nonpharmacologic options. The Consortium is ideally positioned to be an authoritative voice on this issue." Saper noted that they have begun a nonpharmacologic pain initiative, focusing on dissemination of "evidence-informed information and resources on the nonpharmacologic treatment of pain." The University of Washington endowed chair in integrative pain medicine, 
Heather Tick, MD, MA
—a repeat speaker at the
Integrative Healthcare Symposium
—is in the leading role.
Comment
: The remarkable reality for the Consortium is that, for such a significant player, they operate on a very low level of dues as portion of total income. The George Family Fund provides a grant to support communications. A "Legacy Grant" appears also to buoy the Consortium's bottom line. Yet for a dominant player in the field, the resources are relatively slim, which is too bad. As the Consortium has shown
with its Joint Commission work
, when this sleeping giant rises, the Consortium can have a significant affect on issues that are meaningful to people's lives. We would all benefit if they could somehow significantly fire up at least the opioids-related work in this critical time.