Practitioner burnout and joy at the National Academy and in Integrative Practitioner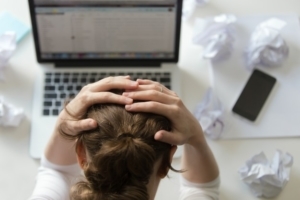 b
y 
John Weeks
, Publisher/Editor of 
The Integrator Blog News an
d
 Reports
Editor's note: This analysis article is not edited and the authors are solely responsible for the content. The views and opinions expressed in this article are those of the authors and do not necessarily reflect the official policy or position of Integrative Practitioner.
Hospitals and medical delivery organizations are faddish. Waves of interest roll through the industry. Heart centers. Women's health. Patient-centered care. Complementary and alternative medicine. Value-based medicine. Social determinants of health. These interests of the day are sometimes pushed up by policy, sometimes by marketplace. They come into high focus with intense, acute engagement - webinars, conferences, summits, websites and white papers. Then they subside - sometimes leaving change in their wake. Rising and rolling into acute focus over the last three years is the chronic condition of practitioner burnout. A March 17, 2018
article
from leaders of the Institute for Healthcare Improvement (IHI) that focused on promoting "joy" in the practitioner workplace reported that 37% of newly licensed nurses and 60% of medical doctors are considering leaving their professions.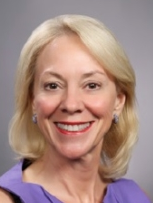 Integrative Practitioner has tracked multiple recent initiatives meant to create, through this wave of interest, a sea change. And on April 11, Integrative Practitioner will host a
webinar
from Nancy Gahles, DC, CCH, MBSR to explore the topic from a practitioner's perspective. Gahles will focus on "Burnout Syndrome." Challenges in relieving burnout are complex. A recent Integrative Practitioner column
documented
the Hackensack Meridian Health delivery organization's 8-pronged strategy to increase wellbeing and resilience in its workforce. The level of commitment in this Lori Knutson, RN-led
Full Court Press for Practitioner Wellbeing
is thus far rare for a medical organization – but may become more common. That such a multi-factorial approach is needed reflects how intractable is the problem. Systemic forces allied against practitioner happiness will be the subject of an April 26-27, 2018 National Academy of Medicine workshop. The event, open to the public via
webinar
, will be co-led by frequent Integrative Healthcare Symposium presenter
Mary Jo Kreitzer, PhD, RN, FAAN
. (I covered this on Integrative Practitioner covered the announcement of the unique initiative a year ago in
NAM to tackle systemic issues damaging wellness in medicine
.)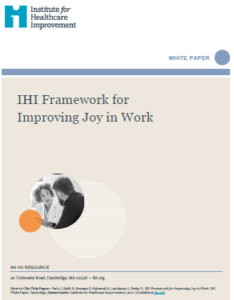 The founding assumption for Kreitzer's planning committee – with which I have had an opportunity to be involved along with Kreitzer, Adi Haramati, PhD, Elizabeth Goldblatt, PhD, MPA/HA and others - is that treating burnout as primarily an individual responsibility won't create and sustain well-being. No amount of mindfulness training, breathing instruction, or onsite massage, acupuncture or fitness facilities will resolve the crisis. In their column, the IHI team argues that success rests in shifting the focus from diminishing burnout to enhancing practitioner joy. This positive psychology reframing at IHI began with the organization's co-founder Donald Berwick, MD. The former administrator of the Center for Medicare and Medicaid System has
publicly shared
that integrative health leader Wayne Jonas, MD and other integrative leaders mentored him in this direction. If one's goal is transforming the medical industry, better to focus on creating heath rather than merely on managing disease. Point your mission in an affirmative direction. From "relieving burnout" to "enhancing joy" fits in the new construct. The recent column from the IHI leaders argues that "focusing on burnout is not enough." IHI has developed the
IHI Framework for Improving Joy in Work
. The work begins remedially with lessons on why joy in work is important. Then it suggests a 4-step process:
Ask staff what matters to them.
Identify impediments
Make joy in work a shared responsibility
Use improvement science to test approaches

The medical industry's re-engagement with practitioner burnout began to gain traction in 2011. Then, in the early years of Affordable Care Act's push for value-based medicine, a family medicine doctor noted a huge oversight. He pointed out that value-based medicine's Triple Aim would only teeter on the three legs - bettering patient experience, improving health, and lowering costs - if it didn't add a forth.  What about the increased burden of these responsibilities on an already over-stretched workforce? "Improved clinician experience" became the 4
th
part of the now
Quadruple Aim.
If stockpiling resources is any evidence that lowering stress and enhancing joy is anticipated to be a long, ongoing engagement, then one need look no further than the new
Clinician Well-being Knowledge Hub
.  Launched on March 28, 2018 through the NAM's Action Collaborative on Clinician Wellbeing and Resilience, the resource is meant to "help organizations learn about clinician burnout." Backing it are the Association of American Medical Colleges and the Accreditation Council for Graduate Medical Education. The systemic and personal drives related to creating joy in the healthcare workplace are likely to continue to combustively intersect amidst the conflicting incentives that define the production-oriented US medical industry. Tooling up practitioners in self-care strategies is likely a necessary if not sufficient prerequisite to gain adequate system-wise attention. In a
paper three years ago
, researchers at the Benson-Henry Institute suggested that, from a public health perspective, mindfulness training should be as widely disseminated as "drivers education and vaccination." Those preparing for, or participating in, the healthcare field should be the first line of recruits for this boot camp. The Integrative Practitioner
webinar from Dr. Gahles
promises to be a good start for assessing one's needs.