How positive psychology is uniting chiropractic-based Life University, the Dalai Lama, and Georgia's prisoners
b
y 
John Weeks
, Publisher/Editor of 
The Integrator Blog News an
d
 Reports
Editor's note: This analysis article is not edited and the authors are solely responsible for the content. The views and opinions expressed in this article are those of the authors and do not necessarily reflect the official policy or position of Integrative Practitioner.
"I am delighted to hear that Life University … has now developed a degree program for people imprisoned in the state of Georgia in collaboration with the Georgia Department of Corrections." This
statement
was from
His Holiness the Dalai Lama
.  The program referenced is offered via an academic institution near Atlanta, Georgia that began as a chiropractic college. The Dalai Lama prefaced his comments by reflecting on his longtime interest in "the plight of people in prison." He concluded by urging others to support a
Life University
project that is serving huge demand from both women prisoners and from the guards who keep them there. This improbable mix is bound together through the shared, vital energy of
positive psychology
. The Psychology Today website defines this as "the study of
happiness
," noting that psychology usually focuses on treating dysfunction while positive psychology "examines how ordinary people can become happier and more fulfilled." This connective tissue, and the initiative the three entities embrace, were explained to me by
Gerard Clum, DC
. Clum, a former president of a Life-affiliated college, is a long-time integrative health policy leader. He serves as a special adviser on key projects to Life chancellor
Guy Riekeman, DC
and its president Rob Scott, DC. The
Chillon Project
in the University's Center for Compassion, Integrity and Secular Ethics that offers the program is one of them. Clum is the Center's director. "The way I view it, positive psychology is to the mind what traditional, chiropractic is to the body," Clum shares. "The traditional form of chiropractic is oriented to keeping people healthy, it doesn't focus only on pathology." He sees this vitalistic philosophy and approach as a physical analog to positive psychology.
Origins of the program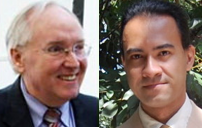 The philosophy Clum describes is boldly announced on the Life website. Riekeman and Scott are introduced on the homepage next to this quote: "We are vitalistic visionaries relentlessly committed to disruptive social innovation." The actual connecting of this triad of entities began with a conversation in San Francisco between Clum and Life faculty member in psychology
Brendan Ozawa-de Silva, PhD
. Ozawa-de Silva, who also has teaching roles at Atlanta's Emory University.  mentioned a non-credit program for women incarcerated. Clum wondered why it was not for credit and if maybe Life might offer something. The idea for the Chillon Project was thus seeded. Riekeman quickly blessed it. The timing was ripe, as Clum tells it.
Georgia governor Nathan Deal
had made clear that reforming the state's prison system was something he was taking on "as a legacy issue."  Seventy percent of prisoners lack a high school degree or GED. Education and the opportunity it brings are the best bulwark against recidivism. The system's education director,
Buster Evans, PhD
, quickly embraced Life's idea. Life was able to move quickly through recognition with its regional accrediting agency. And in 2016, Life kicked off the only accredited, non-religious bachelor's program in a women's prison in the SE US. The Bachelor's Degree program in "Positive Human Development and Social Change" has five concentrations: Peace Studies and Sustainable Human Flourishing; Secular Ethics; Contemplative Studies; Positive Business; and Positive Psychology. Life describes the program's mission as "producing change makers" via a
secular ethics
model "focused on the basic human values rooted in our common humanity." The program has an additional intriguing dimension. Corrections officers heard of the program. Why couldn't they have access. Provision was made for some scholarships for officials and their family members. The first year of the program began with 15 students from 120 applicants. The third cohort that begins in 2018 will have a mixed prisoner-corrections officer group of 65.
Dalai Lama's involvement
The Dalai Lama became aware of Life's partnership with Georgia's Department of Corrections via his prior engagement with Emory -- and then via Ozama-de Silva. His
December 26, 2015 letter
commends Life for bringing forward the concept of "secular ethics" and for additionally extending the [program to "correctional officers." He planned to visit Life during a late 2017 trip to the USA but his entire trip was cancelled. I asked Clum how a chiropractic college ended up here, with a program for female prisoners, blessed by the Dalai Lama. Clum reached back to the institution's founding in which "the ethic of Life Chiropractic College and then Life University [is] a Lasting Purpose, to love, to give, to do and to serve out of a sense of abundance. While the core of the institution is, has been and will be chiropractic the vision embraces chiropractic and much more. It is our sense that the essence of Lasting Purpose and the human qualities of compassion and forgiveness have a hand in glove relationship." Clum shared a more personal reflection of how powerfully impressed he was by the level of discourse among the prisoners in their classes. "It's just a shame to have these individuals wasting away in these facilities. They would clearly crawl over cut glass to make it to these classes – what a change from 21-year-old-students who may think that they are doing you a favor to show up." He chuckled: "Once our faculty go to the prison to teach they don't want to come back." None of the prisoners pay tuition. The project is fully funded as social mission by Life and its supporters. Life's website says $2500 creates opportunity for a year for one prisoner. In the letter to Life, the Dalai Lama's noted that he hoped others would see the "transformative potential" in the program. He closed with an invitation to others "to join me in lending support to the Chillon Project."