Organizations offers yoga to at-risk populations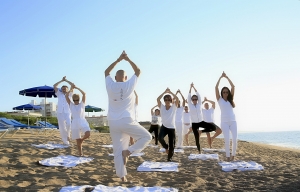 Connection creates resilience. That's the mission statement of North Carolina-based non-profit,
L
ight A Path
, which brings yoga and wellness tools to local prisons, schools, recovery centers, and homeless shelters. Started in August 2014, Light A Path initially consisted of two yoga classes at Swannanoa Women's Correctional Facility and one in Madison County for youths at risk.  Today, the organization offers 22 classes per week with over 35 volunteers in three counties. The program serves youths at risk, the homeless population, people in recovery, and those in communities who are in low-income housing and have no access to transportation or financial resources to attend classes at a yoga studio, says Susan Kaagan, yoga teacher and board member of Light a Path, in an
interview with Mountain Xpress
. The organization is 100 percent volunteer-driven, Kaagan says, and while every population can benefit from yoga, those at risk have the most opportunity to really reap the benefits of stability. "Each of the volunteer teachers will tell you that the students at Light a Path come forward and say what has changed for them while attending the classes on regular basis," she says. "We believe we are in an exciting place, that we are being invited to expand and grow in order to respond. Part of what we are doing is organizing our fundraising to respond to our needs for verification of our work for those we are serving and those we haven't reached yet." The nearby Council on Aging of Buncombe County is mirroring Light A Path's efforts with the elderly population. Cyndy Kirkland, a yoga instructor for the organization, teaches chair yoga at the lunch site at Highland Farms and at Lakeview Center for Active Aging, which is a part of Black Mountain Recreation and Parks. Chair yoga is a great option for those seniors with limited mobility. The best way to prevent falls is to practice preventive medicine such as chair yoga, she says. It can greatly reduce the chance of someone falling by improving their balance and strength, which is very important should they trip and need to catch themselves. The senior population is not often thought of as an at-risk population, says Kirkland, but in fact seniors are at risk for multiple chronic diseases and for falls. The Centers for Disease Control and Prevention report that falls are the leading cause of injury among older adults, citing that every 20 seconds a senior dies from a fall. "They fear falling more than just about anything," says Kirkland, who offers her chair yoga group the tools to help with fall prevention and awareness of strategies for decreasing the risk of falling, including proprioceptive awareness—knowing where our limbs are in space without having to look—and shifting the weight forward and back to find balance.
Click here
for more information.