New Industry Insights Will Help Unite the Integrative Health Community
The term "integrative practitioner" has this beauty in it: no one discipline or profession owns it.
Stated affirmatively: the term belongs to all of us. Even an administrator or writer-organizer such as myself may self-identify as an "integrative practitioner."
There is Big Tent potential in the term. Similar potential rests inside of "integrative health" and, to a lesser extent – because some healthcare professions don't self-identify as medicine – the term "integrative medicine." Ownership is not restricted. One can self-identify as being in, or not.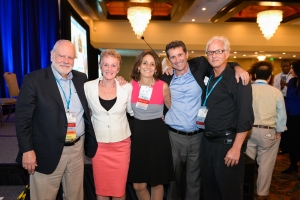 Left to Right: Leonard Wisneski, MD, FACP;
Pamela Snider, ND ; Mimi Guarneri, MD, FACC,
ABIHM; Daniel Friedland, MD, ABIHM;
John Weeks, Publisher/Editor of The Integrator
Blog News and Reports
The potency is this: the numbers that can find and promote common ground under those banners are huge.
There are over 380,000 licensed integrative health practitioners in these fields: chiropractors, acupuncture and Oriental medicine practitioners, massage therapists, naturopathic doctors and homebirth-oriented midwives. Add to these integrative and functional MDs and osteopaths, holistic nurses, progressive nutritionists, psychologists, mind-body specialists, health coaches, yoga therapists, and herbalists – the list goes on. At a certain point, to abuse a famous comment of former US Senator Everett Dirksen, pretty soon its adds up to a real cultural-political force.
The mission of the Integrator Round-ups that were published here at IntegrativePractitioner.com between 2007 and January 2016 – and of these columns going forward – is to help build a sense of community among those who self-identify as part of this collective.
The value could be significant. If one allows oneself the dream-space of considering these – and their patients and networks – as change agents, the combined numbers become a conscious movement rather than merely a chaotic grass-roots force. The movement potentially becomes a popular power to be reckoned with.
The idea of transforming the $3-trillion medical industry into a system focused on creating health becomes something less than lunacy.
Organizations like the Integrative Health Policy Consortium (IHPC), the Academy of
Integrative Health and Medicine (AIHM), and the Academic Consortium for Complementary and Alternative Health Care (ACCAHC) are actively weaving these new interprofessional entities to carry the shared energy. They are showing some success, as is evident in these Accomplishments and this Chronicle. Conferences like the Integrative Healthcare Symposium and online forums like IntegrativePractitioner.com are creating the sense of multidisciplinary community. (Leaders of the three organizations, with me, in the photo.)
Do you self-identify – in any part - as an "integrative practitioner" who is connected in some ways with others who share a whole system, health focused, team-based philosophy of practice?
If so, you hold a kind of dual identity. First there is your distinctive connection – positive or negative – with the profession into which you are licensed. It has its history, its challenges, its relationships to power, its goals, its gifts, and its baggage. These are yours – accept them as you will, or leave them as you may try.
But what of this new, at least partial, identity as an "integrative practitioner"? What is the past of this composite? Out of what cultural amniotic fluid was this being born? Where is this integrative health/integrative practitioner/integrative medicine headed? Where do we want to go?
Last fall I was asked by the Academy of Integrative Health and Medicine to present a plenary session at their 2015 conference that might begin to answer these question. What are we, collectively? What is our history? Where shall we ask of ourselves?
My title: Connective Tissue: A Winner's History for the Movement for Integrative Health and Medicine. The slides are here. James Maskell of Evolution of Medicine/Functional Forum subsequently asked me to capture the main points in a podcast. The oral interview is here.
This column marks the beginning of a new blog-post dosing method for exploring the elements, actions and potential in this community. Like the Integrator Round-up that preceded it, these columns will continue to weave together the strands, the cloth, the tapestry, of our shared lives.
Only instead of dumping 5000 words and 20 short articles all at once, the Integrative Practitioner content will move to a more approachable and digestible format of 8-9 columns of 500-750 words a month. They will cover the gamut of the former Round-up: from policy to organizational activity to research developments to economics to people. In place of a tidal wave of content, one story followed by another, twice a week.
I hope to assist you in understanding your connections and your broader community as an integrative practitioner. I urge you to shape my telling by sending story ideas. I welcome your feedback. Send me a note: [email protected].
We've come a long way as a movement since 2007. I'm curious to see what choices and impact we will make as integrative practitioners going forward!