NCCIH Open Strategic Plan to Comments on Integrative Health Research
Public Comment Period Closes on April 15
by 
John Weeks
, Publisher/Editor of 
The Integrator Blog News and Reports

The National Institutes of Health National Center for Complementary and Integrative Health (NCCIH)
announced
on March 25, 2016 a short window for a comment period on its
draft 2016-2021 Strategic Plan
. Director of the NCCIH,
Josephine Briggs, MD
, called out to interested parties to submit comments by April 15, 2016. "We will review and consider the comments that we receive to identify current and future needs and directions for complementary and integrative health research and research training."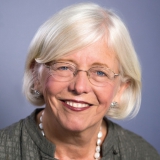 The agency oversees a budget of over $120-million per year. Dr. Briggs (
pictured right
) is charged with prioritizing the budget for their optimal investment in helping us understand complementary and integrative health, medicine interventions, and their role in medical delivery. The draft centers around "three scientific and two cross-cutting objectives." These are described as:
Scientific
Objective 1: Advance Fundamental Science and Methods Development
Objective 2: Improve Care for Hard-to-Manage Symptoms
Objective 3: Foster Health Promotion and Disease Prevention
Cross-Cutting
Objective 4: Enhance the Complementary and Integrative Health Research Workforce (cross-cutting)
Objective 5: Disseminate Objective Evidence-based Information on Complementary and Integrative Health Interventions (cross-cutting)
In the plan, each objective has a series of "Strategies" attached. For instance, under "Improve Care for Hard to Manage Symptoms" the authors note as the top strategy that "NCCIH is particularly interested in clinical studies of interventions for pain, anxiety, and depression." The second is to "conduct studies in 'real world' clinical settings to test the safety and efficacy of complementary health approaches, including their integration into health care." The same three conditions – pain, anxiety and depression – are noted as focal areas.
NCCIH's Draft Top Scientific Priorities
The plan closes with a section on "Top Scientific Priorities." These are listed as:
Nonpharmacologic Management of Pain
Neurobiological Effects and Mechanisms
Innovative Approaches for Establishing Biological Signatures of Natural Products
Disease Prevention and Health Promotion across the Lifespan
Clinical Trials Utilizing Innovative Study Designs to Assess Complementary Health Approaches and Their Integration into Health Care
Communications Strategies and Tools to Enhance Scientific Literacy and Understanding of Clinical Research.
Comment
: There is much that anyone with half an interest in research will find intriguing and even exciting here. For instance, the typical Integrative Healthcare Symposium attendee will be interested to find that research related to the microbiome is mentioned in multiple places. One example is the "potential role in the development and maintenance of resilience" under Objective #3. This is a first for an NCCIH plan. Those intrigued by the complex nature of herbs will discover interest "in 'omics-based' and other high-throughput technologies [that] may help researchers evaluate the validity of hypothesized additive or synergistic effects that are the core of many traditional medicines." In addition, "network pharmacology … will enable researchers to investigate the complex effects of natural products." I find it exciting that these high tech approaches may affirm the herbalist's conviction that
it's the complexity, stupid
. Some of these directions are explored in
Twelve Integrator Voices on a Theme: NCCIH's Past and Future Plans for Research on Botanicals.
This plan diverges from others in announcing interest in partnering with employers, schools and communities. These relate to the potential for group-based integrative interventions like yoga and mindfulness. It's exciting to see the NCCIH position itself as part of bringing health out of the clinic and into communities. Another milieu of interest in the plan that is repeatedly mentioned is military medicine, where Briggs has led a strong partnership. When Briggs engaged her
first strategic plan
following her 2008 appointment, the long public process generated significant dialogue from players in the field. Below are a set of documents that share where the field was five years ago. The current draft plan is offered out of a far more mature Briggs era. The scientific questions are more precise. Internal momentum in the NCCIH is already underway toward the stated objectives. Perhaps for this reason, the window for comments is just three weeks. Much to like here and still much that can be improved upon. The NCCIH under Briggs has been known as a listening organization. Take a look at where your tax dollars are going and where the field's NIH-involved research community is prioritizing their expenditure. After all, the evidence produced will shape future opportunities. This is a twice a decade chance to be heard on the long game of what research will may tell us regarding the place of complementary and integrative health in future care. Click
here to participate and respond
." _________________________ Perspectives on the
2011-2015 Plan
(note that NCCIH was "NCCAM" then):