NCCAOM/ACIH collaborate on tool for credentialing acupuncturists, other complementary health professionals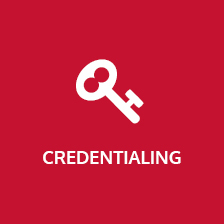 by John Weeks, Publisher/Editor of The Integrator Blog News and Reports
While many integrative medical doctors are trying to find their way out of the traditional healthcare system, many of their colleagues in the licensed complementary and integrative healthcare professions—acupuncture, chiropractic medicine, naturopathic medicine, and massage therapy, for example—are trying to find a way in. A new publication provides a road map for licensed acupuncturists that could also serve members of other integrative healthcare professions.
"Credentialing Licensed Acupuncture and Oriental Medicine Professionals for Practice in Healthcare Organizations: An Overview and Guidance for Hospital Administrators, Acupuncturists and Educators" is a free downloadable publication.
The document, with which I was involved, was a collaboration of the Academic Collaborative for Integrative Health (ACIH) and the National Certification Commission for Acupuncture and Oriental Medicine (NCCAOM®). While focused on acupuncturists, it was developed to serve as a guide for credentialing of other integrative healthcare professionals. The co-authors are NCCAOM's CEO, Kory Ward-Cook, PhD, CAE; and board members, Iman Majd, MD, EAMP (LAc), ACIH Executive Director, Elizabeth Goldblatt, PhD, MPA/HA, Stacy Gomes, EdD, MA ED, and myself (pictured left to right).

The 18-page document—with 20 additional pages of resources—was developed with input from over two dozen acupuncturists, medical directors, and administrators.
These professionals have pioneered credentialing acupuncture and Oriental medical professionals in hospitals and other medical delivery organizations across the United States. Among these 27 professionals—each of whom are listed in Appendix B, page 22—are involved with Cedars-Sinai in Los Angeles, New York Lutheran, Northwestern Osher Center, Aurora Health, Carolinas Healthcare, Boston Medical Center, and elsewhere.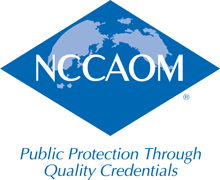 The practical guide offers six sections. The themes explored include different models for compensation and employment, scope of practice-related decisions, and the use of a memorandum of understanding:
Basic Credentialing Requirements (six subsections)
Additional Credentialing Processes (nine subsections)
Challenges and Opportunities (two subsections)
Perhaps the most practical tools, particularly for administrators, are in the appendices. Integrative medical doctor Rick McKinney, MD, and Hali Hammer, MD, provide documents from their experiences working on inclusion of acupuncturists at San Francisco General Hospital. They provided the hospital's actual documents related to their processes in credentialing acupuncturists through the San Francisco Department of Public Health.

One additional process, included in the section, "Toward Optimal Acupuncture Practice in Integrated Care," speaks to the typically-limited use of acupuncture and Oriental professionals in most healthcare delivery models. For example, practices may be restricted to treating certain conditions, or prohibit use of any non-needle AOM therapies, including Chinese medicines, moxibustion, and Tuina.
Of note, the focus of the two-page section is not on shortcomings of hospitals. Instead, it guides practitioners to what they may do better. Current accredited education in acupuncture is limited when it comes to preparing students for working in hospitals and other Western medical establishments. Some resources are available to help remedy that. A centerpiece is ACIH's Competencies for Optimal Practice in Integrated Environments, which include interprofessionalism and team care, evidence-informed practice, and institutional healthcare culture and practice.
Comment: The uneven uptake of acupuncturists and other licensed integrative healthcare professionals creates a repeated situation in which some administrators are given a task that he or she thinks is akin to bringing Martians into a gated suburban subdivision. Do they need to be quarantined first? Hopefully this document will facilitate inclusion, especially in this moment in which this practitioner group, and other integrative health professionals, can be such useful partners in combating the propensity of medical doctors to go straight to opioids unless they know their hands will be slapped for doing so. For acupuncturists interested in these jobs, go to school on this document. Engage an honest inventory with the Competencies.