Movement accelerator: James Maskell's book "The Evolution of Medicine"
by John Weeks, Publisher/Editor of The Integrator Blog News and Reports
A practical convergence distinguishes impresario
James Maskell's
significant impact on the movement for functional and integrative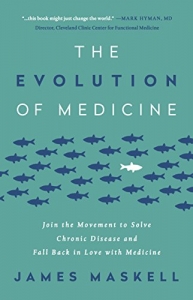 medicine models. Even as he celebrates the clinical value of what he calls "root cause medicine," he focuses a steady beam on the economic challenges and strategies to shift to new practices. Maskell, the most influential non-physician promoter the movement has seen in recent years, paints a picture of near inevitability for his firm belief in a "community micropractice" business solution. It's a method that is deeply entangled in his own business model. Now in his book,
The Evolution of Medicine
, Maskell lays out a step-wise method for physicians to, as the subtitle puts it, "Join the Movement to Solve Chronic Disease and Fall Back in Love with Medicine." The book opens with ringing endorsements from a constellation of guiding light authors: Mark Hyman, Deepak Chopra, David Katz, British TV medical personality Rangan Chatterjee, and others. Holistic psychiatrist and author Kelly Brogan, MD, author of
A Mind of Your Own
and a regular on Maskell and his partner Gabe Hoffman's globally-viewed
Functional Forum-The Evolution of Medicine
that reaches 10,000 monthly, offers this: "James Maskell is uniquely ordained to help light the path for clinicians to this space of opportunity, self-realization, and connection to the wisdom of holistic and integrative medicine. Visionary, thought leader, and pragmatist, James has created the handbook for how to reclaim your life purpose, and to contribute personally to the most important revolution of our time."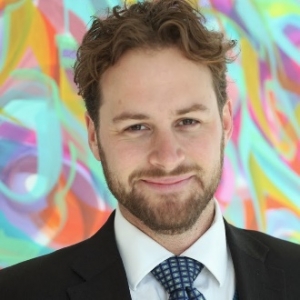 In a summary segment of the book with which he opens, Maskell quotes a TED talk of physician suicide expert
Pamela Wible
. Wible predicts that "doctors 'will be in mass exodus' once they learn they can run their practice differently and 'get off the production line.'" Maskell proceeds to lay out the promise of the "micropractice" that they can "build off of their laptops." Examples of this "combination of in-person visits and telemedicine," he writes, are "flourishing all over the country." They are, Maskell writes, "popping up where people actually are: co-working spaces, gyms, corporate campuses, CrossFit boxes, community centers, strip malls, and churches." As Maskell moves from summary to core argument, he reviews the "trends in the evolution of medicine" that take us to this point of what he calls a "grand convergence" in health and medicine. The reach of converging influences is broad: the rise of self-care yoga, juice bars and healthy practices; Silicon Valley's high tech contributions such as communications systems and wearable devices; "P4 medicine" that is predictive, preventive, personalized, and participatory; completion of the Human Microbiome Project; awareness of the "Blue Zones" and rise of community-based health creation; and then or course the upsurge of functional and integrative medicine. Maskell notes that he encountered functional medicine – his chosen term throughout the book - in 2010 at the Integrative Healthcare Symposium sponsored by the publishers of this column. The subsequent chapter seeks to guide interested physicians – his primary but non-exclusive audience – through their fears of breaking from a suffocating model. The picture is compelling. Maskell can, in the apt phrase,
talk the tar off the street.
The diagnosis of what is wrong and picture of what could be coming are powerful. The prescriptive steps are more speculative, though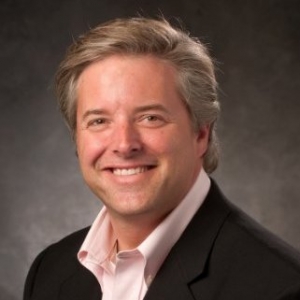 enticing. Leaving the third party payment world. Direct primary care, as advocated by the frequently cited Tom Blue, chief strategy officer of the
American Academy of Private Physicians
. Blue is quoted this way: "Direct primary care is the best business model for private medicine, and functional medicine is the best clinical model for creating health, and for the first time there's an opportunity to put the two together." The steps to transition to which Maskell devotes the rest of the book are the elements of the "micropractice" – what he calls the "low-overhead, technologically-enabled practices in a community setting." He shares smart use of e-mail as an educational tool. Anyone on the Evolution of Medicine-Functional Forum list will know that there experience and steady commitment behind his strategy in this area. In a chapter on increasing efficiency he begins with group visits then moves into multiple tech strategies: Living Matrix, for intake; IGGBO, the "Uber for phlebotomy"; Fullscript, for e-prescribing supplements; MDHQ as an electronic medical record; MBODY360, NudgeCOACH, and Mymee for tracking patient activity; HeartMath, to speed behavior change. Most of these
are firms that sponsor the Functional Forum-Evolution of Medicine
family of activities, and that he promotes regularly to his list. Maskell-Hoffman's Evolution of Medicine organization states on its website that its "first" goal is nothing less than "to empower 100,000 Integrative and Functional 'micropractices' that treat the root-cause of disease and become centers of health creation in their respective communities." While some mention is made of the issues of access for these cash-only practices, such challenges appear to be relegated to what may be a follow-up strategy. Maskell's book is a powerful tool in his organization's drive toward the ambitious initial goal.
Comment
:  Two disclosure notes. I worked with Maskell and Hoffman in a series of news shows early in the year and enjoyed participation in the February 29, 2016 Functional Forum. I also had a chance to work with Maskell on a panel onto which I invited him at the Integrative Healthcare Symposium 2016, two days earlier. It was learning of the "Blue Zone" area of Maskell's worldview that stimulated me to include him. Connecting his huge functional medicine audience with health creation in communities is terrific. Maskell, for instance, describes a physician who opens her California practice by first holding a small town meeting and asking the community what it wants. Brilliant! (I have been seeking to get a colleague charged with leading an academic naturopathic medical program to do the same thing.) Are many functional/integrative/naturopathic practitioners engaged in this form of active solicitation of community needs, and listening to communities? To their credit, the monthly Functional Forums Maskell offers with partner Gabe Hoffman model community engagement with their local gatherings. They are doing what they are promoting. The second disclosure is that, knowing Maskell's work, I urged my spouse,
Jeana Kimball, ND, MPH
to consider the micropractice. She was then considering a non-insurance model in a re-start of her clinic. I recommended Maskell's list of technology purveyors. As of 12 months ago, a couple were, for her, not working with the functionality that she wanted. Hopefully the kinks have now been worked out. Maskell writes: "The truth is that, most likely, the best technologies to run a functional medicine practice have yet to be created." He adds: "All of the companies [recommended] are dedicated to improving their product and integrating with other technologies." In general, the story with the uptake of technology in medical management since the EHR promises of the Clinton reform 23 years ago have been attached to a good deal of magic bullet type over-promise. Then again, the uptake of the micropractice model may be a good deal easier for younger practitioners entering medicine with a closer relationship to technology than those elders such as myself infected with a measure of
troglodytism
. Maskell's
The Evolution of Medicine
describes and promotes a visionary direction in the evolution of the alternative-holistic-complementary-integrative-functional movement. Whether one is new into this exploration, or a long-timer, this easy-to-read, well-laid out 150-page text will be a useful engagement.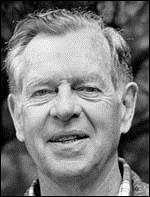 Maskell's got me thinking how, ironically, these steps
out
of the box may be among the best choices for
in
-tegrating new care options into people's life choices. What he urges physicians to undertake, as he writes – citing author and mythologist
Joseph Campbell (pictured)
– is "a hero's journey." The greater hero's journey will be figuring how to reach all of the populations, to create Blue Zones throughout our cities, not only in the enclaves of the economically lucky who typically can avail themselves functional medicine practices that do not take insurance.