Maine health professionals start integrative practice for Lyme disease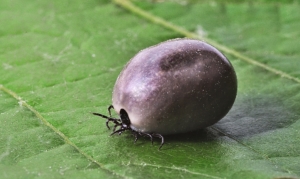 Health professionals in Scarborough, Maine plan to open a new integrative health center in November geared toward helping people with Lyme disease. David Aronson, a licensed clinical social worker, and Jacob Aguiar, N.D. plan to form the Scarborough Integrative Health Center, along with Jill Mahoney, M.D. Aronson said the center would be geared toward helping people with Lyme disease tackle not only the physical symptoms, but the mental symptoms. Aronson said he is currently battling the disease, but said that he has improved significantly. According to Maine Medical Center, 
the initial symptoms of Lyme disease are fatigue
, malaise, muscle aches and pains, headache, chills, fever. Untreated, additional symptoms may occur including hot swollen joints, paralysis of one side of the face (Bell's palsy), shooting pains and dizziness caused by disturbances in cardiac rhythm. Researchers at Maine Medical Center said the adult deer tick usually appears around the first or second week of October, and that ticks usually do not disappear until the average daily temperature reaches about 40 degrees Fahrenheit. Aronson and Aguiar said that if untreated, Lyme disease can cause many people to experience increased anxiety, depression, mental confusion, and sometimes thoughts of suicide. "If untreated it can be a very complicated, long-term disease," said Aronson. "It's not just a simple two-week course of antibiotics. When you're that sick, it's hard to maintain a positive outlook." Dr. Aguiar said about 95 percent of his patients suffer from Lyme, and that the mental symptoms can be as detrimental as the physical. "For some people, those are their worst symptoms, to where they're completely debilitating," said Dr. Aguiar."Because the illness can present in so many different ways, a lot of people need support beyond just seeing a doctor." Aronson and Aguiar said people dealing with Lyme can experience highs and lows with their health, sometimes for days or weeks at a time. Aronson hopes the new practice will make a difference.
Click here to read the original story courtesy of WCSH 6.