Integrative Practitioner releases comprehensive practice management guide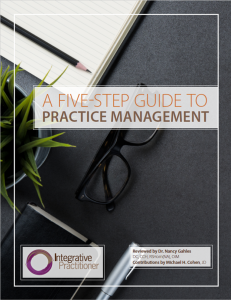 Integrative Practitioner is pleased to announce the publication of our
Five Step Guide to Practice Management
. In addition to being the leading resource for industry news and clinical best practices, we are committed to bringing you top tier advice on running a patient-centered integrative business. A successful integrative practice puts the patient first. The best results are achieved through seamless collaboration between conventional and alternative medical professionals working to address the patient's goals. Whether you're building an integrative practice from the ground up, looking to improve an existing practice, or joining an already established practice, you must fully understand what goes in to a patient-centered practice. We walk you through five comprehensive steps of planning, developing, marketing, and managing a successful integrative practice. We offer real-life scenarios to walk you through the many challenges practitioners face and tools that you can immediately implement in your own practice. Included in this book:
Planning for a patient-centered practice
Developing a business plan
Marketing suggestions and resources
Addressing legal concerns
Management tips and self-care practices
Case studies and scenarios
Checklists and tools
This book is a great resource for any practitioner in the integrative healthcare community. FOR A LIMITED TIME ONLY, purchase your guide for $99 (regularly $125).
Click here
for more information.