Why integrative medicine suffers in a "volume-based" industry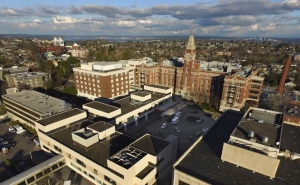 by John Weeks, Publisher/Editor of The Integrator Blog News and Reports
The damning February 12 investigative feature in the Seattle Times on the Providence-Swedish Health Alliance medical delivery system ran under the headline of "Quantity of Care." The article wasn't reporting how massive inputs of care from holistic nurses, mind-body practitioners, health coaches, massage therapists, Reiki workers, acupuncturists, and other integrative practitioners were delivering human care in dump-truck quantities to support this so-called "health alliance." Rather, the focus on "quantity" was on the hospital's highest economic producer physicians. Some generate $65 million to $80 million per year for the hospital.
This article is instructive, if dismaying, on the mindsets and operational priorities that typically leave integrative health outside their concept of care.
To be clear, the article's companion piece, "High Volume, Big Dollars, Rising Tensions," focus not on mind-body workers or acupuncturists but instead bores in on soaring revenues of neurosurgeons at the Swedish Neuroscience Institute (SNI). In fact, it doesn't mention "integrative" at all—despite the potential value to every one of these patients of supportive care. One might imagine such value after spines are fused and after sections of their skulls, for instance—as happens in an apparently frequently over-performed procedure—are sawed out and subsequently replaced. The list of services at SNI includes nothing integrative.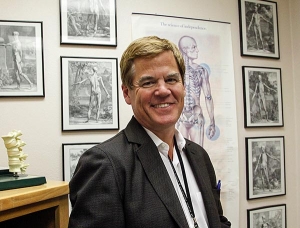 The story circles around two individuals. At the center of SNI's business success is one Johnny Delashaw, MD. Investigative reporter Mike Baker captures how Delashaw has cut a double path while jetting through practices in Oregon, UC Irvine, and now with SNI. One is a seemingly Superman-like ability to churn revenues through a surgery practice that pushes Medicare's boundaries as he works three or more suites at a time. The media release on his appointment did not mention Providence-Swedish's attraction to a fellow who had jacked rates of a particularly remunerative, and suspect, surgery by 400 percent at UC Irvine.
The reporter unearthed an internal memo at UC Irvine at the time of Delashaw's hiring that foresaw such growth. It quotes John Kusske, MD, then the interim chair of Irvine's Department of Neurological Surgery: "There are distinct possibilities that [Delashaw] will encourage greater productivity from other faculty members so that the amount of income generated by the Department will make it a leader within the institution." The pattern continued in Seattle. Delashaw billed for $76 million in 2015 at SNI, where rates for that surgery jumped 63% from 2012-2014. National averages for billed services for neurosurgeons are roughly half those registered by Delashaw.
Investigative journalist Baker framed this business drama around a story about clinical outcomes. These he pegged to compelling portrait of the care received by a young college student and artist, Talia Goldenberg. Goldenberg, whose fine art illustrates the feature, died from poor treatment that began with a likely unnecessary neck fusion that was coupled with negligent after-care. The family won a malpractice suit.
Goldenberg's is the face of deleterious effects on quality of care in the era Delashaw inspired of robust business growth. Doctors at UC Irvine "flagged over 40 cases [of Delashaw's] that concerned them" in his short tenure there. In 2013, prior to Delashaw's move to Seattle, "the board of directors of the American Association of Neurological Surgeons voted to censure Delashaw for questionable testimony he gave in a malpractice case. At Swedish, he has had 49 formal complaints from his co-workers. His department's stroke-rate is over twice that of other hospitals. Accidental cuts during the delicate surgeries leapt from 0.1 percent to 2.6 percent in two years as Delashaw's production line ramped up. Other quality of care metrics suffered as income grew.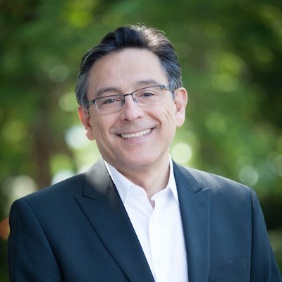 A former chief executive of physicians who has now left Swedish, Ralph Pascualy, MD, pictured, is quoted sharing the staff-wide concern. In a note to Providence CEO Rod Hochman, he reportedly wrote, "You are perceived as giving [Delashaw] special privilege and honor when he is held in extremely low regard by every other physician on the medical staff. It has created a perception that what really matters at Swedish is vast [Relative Value Units] production without concern for the means by which it is achieved."
A University of Southern California health economist is paraphrased as stating that there "is evidence that physicians respond to volume incentives by adding more procedures—perhaps unnecessary ones."
"I wanted all my faculty—as I said to them many times—I want them to be rich," said Delashaw, in a cited court case. "But in order to be rich, you have to work and you have to do clinical volume or you have to have other kinds of financial support." Despite concerns as expressed in poorer health outcomes, and by staff, Delashaw was elevated to run the SNI department.
Comment: In the U.S., an estimated one third of medical therapies performed are viewed as unnecessary. The next time someone tries to peg this to defensive medicine, remember this article. Its spirit infuses the march of U.S. medicine toward the $3 trillion of annual revenues that inflame the industry. It's called volume-based medicine.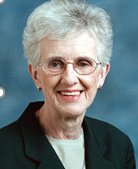 Back in the early days of the integration dialogue, I had a consulting relationship with Providence in a partnership called Medalia that it then had with the St. Francis system in the Seattle-Tacoma area. My work was on the system's primary care side, where I led development of integrative relationships in a particularly robust period of integration following Washington's passage of the Every Category of Provider statute that vastly expanded insurance coverage. I worked unded the tutelage of family medicine pioneer Richard Layton, MD. He and I captured our work in a peer-reviewed article as Integration as Community Organizing: Toward A Model for Optimizing Relationships Between Networks of Conventional and Alternative Providers. I was recommended for the position by Sister Diana Bader, pictured, who I'd met at local conference.
Through the experience in those years with Sister Bader and Corrine Bayley and others of their fellow, powerful colleagues leading the Catholic systems across the country, I gained an enduring picture of U.S. medicine. Many of these leaders viewed the popular interest in "complementary and alternative medicine" as a potential leverage in their ongoing, passionate push to up the "quantity" of more holistic, patient-centered care for those they served amidst the incessant industrial push toward more technological solutions. These women were championing value-based care before that term came into play.
I came to picture the dramatic tension in U.S. medicine as this. On one hand, these strong, spiritually-connected females. On the other, the typically male medical leaders, and CEOs strategically aligned with high producing cardiologists, orthopedists, and neurosurgeons. These promoted growth, income, revenue and volume, with less concern for collateral damage. To this day, I picture these as the human faces on the value-volume dyad in US medicine.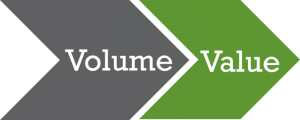 Despite the fits and starts in Obamacare toward financially incenting value-based healthcare, volume still rules. Big time. And under Trump-care, one can likely expect more of the same. This spells challenges for the uptake of complementary and integrative practices, in which the big money is in saving money, for the foreseeable future. We are witnessing challenges recently at Allina/Penny George, at Albert Einstein/Continuum and Banner/Arizona Center. A good start toward sanity will be for the Sisters on the Providence board to start pushing for more "quantity" in actual caring at Providence-Swedish's SNI, and elsewhere in that nominal "health system."
Short of that, a good start will be toward honesty. Change the "I" in SNI from "Institute" to "Industry." Right language, as Confucius taught, is the first step toward wisdom.