Integrative MDs serving via NBA Players Association: Interview with Myles Spar, MD, MPH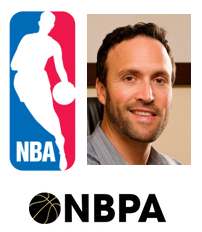 b
y 
John Weeks
, Publisher/Editor of 
The Integrator Blog News an
d
 Reports
Editor's note: This analysis article is not edited and the authors are solely responsible for the content. The views and opinions expressed in this article are those of the authors and do not necessarily reflect the official policy or position of Integrative Practitioner.
Word arrived via Facebook that integrative medical doctor
Myles Spar, MD, MPH
is presently providing integrative medicine to National Basketball Association (NBA) players. Spar, a men's health expert who is also a
Bravewell Award winner
for his integrative services to the underserved, is working with over a dozen teams in a program demanded by the players through their union bargaining process. I got in touch with Spar to find out about the program, how it got started, what it's consists of, and what it's like being an integrative medicine doctor to the NBA.  I found out that also involved have been
David Rakel, MD
, chair of community and family medicine, University of New Mexico,
Bradly Jacobs, MD, MPH
, the chair of the Academy of Integrative Health and Medicine, and
Russ Greenfield, MD
, one of the first four residential fellows at the University of Arizona Fellowship in Integrative Medicine. The following interview was based on a conversation Spar and I had to connect the dots.
Weeks
: When did you start imagining your integrative medicine career would lead to this?
Spar
: Not until I got their call.  Working in L.A. specializing in Integrative men's health, I often consult with celebrities. But I hadn't realized the extent to which pro athletes are hungry for the concepts we use that they don't get from straight western medicine. It's amazing. And they are so big. You shake their hands – their hands are huge. It's like the incredible hulk. And so many are such young men, 19-20 years old.
Weeks
: What is the program?
Spar
: Every year the NBA provides a health education service that is in the contract of the players' association. It's basically a talk that is part of an hour and a half health program. Somehow the players' association let it be known that they wanted more than the same old stuff. They had questions about diet, stress, supplements – though you can't really get into supplements because of performance enhancement issues. The players wanted to know more about how to be proactive with their health.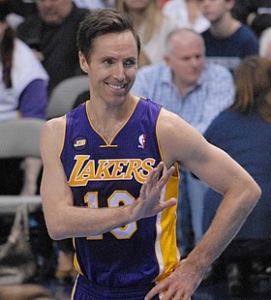 Weeks
: This is a good sign.
Spar
: It's a big shift from the Dennis Rodman generation when it was all about partying. I really credit player (former pro basketball player)  
Steve Nash
who started the "Our Bodies, Our Livelihood" way of thinking. Through their negotiations through their union – the
National Basketball Players Association
– the players let it be known they wanted something more. They reached out to David.
Weeks
: Why David do you think?
Spar
: They wanted integrative medicine and he has the big
Integrative Medicine
book.
Weeks
: He's getting a pay-off for all that labor.
Spar
: David was too busy. He sent them to me for my men's health expertise and to Bradly Jacobs and Russ Greenfield, who each have a lot of experience working with high end clients. It didn't work with Brad's schedule so it's Russ and me. (L-R: Rakel, Jacobs and Greenfield)
Weeks
: What is the work?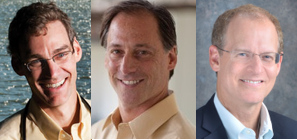 Spar
: We typically fly to meet with the players on each team in their own city. I started with the Clippers and Lakers and just got back from Oklahoma and Philadelphia. I've done 11 so far. It's a mandatory meeting. All of the members – 15 participate. We usually have about an hour of a 90-minute session. The other 30 minutes is a different person on substance abuse and repercussions that can come from abuse. Those who want to can have a one-on-one session on their own issues. The player's association also pays for it. Usually about three per team want one. Part of what we cover in our talks is basic things like STDs. But they have a lot of interest in subjects like stress and nutrition. They are a privileged group and at the same time they have huge stresses – their schedules, fans throwing themselves at them, family members wanting things. It's not easy at all. And their schedule is much more challenging than the NFL, with 80 games.
Weeks
: It's a grueling season.
Spar
:  I have found the players to be so into these sessions. There's usually one who holds back, cracking jokes but then his team-mates will shut him down. Most are very thoughtful. On average 2 out of the 15 already have a meditation APP on their phone. They are into this. They hear all kinds of stuff about this diet or that pushed or promised by some quack doctor. We bring a more balanced view.
Weeks
: What's your biggest surprise?
Spar
: How open they are! I thought there would be a small number who would interested with rest young and impervious. They are just nice guys – and so young. Some are 19, 20 years old. They are not high on themselves. They want to get off anti-inflammatory drugs. We talk about anti-inflammatory diets. They are primed. We give them a workbook Russ, Brad and I developed. They are listening. The #1 injury is ankle sprain. Sleep and stress impact that. They are ready and open to talk about things.
Weeks
: Other surprises?
Spar
: I had the best vegan meal ever in Oklahoma.
Weeks
: Where next?
Spar
: Phoenix and Toronto. Then I finish in Portland. Hopefully they will do it again next year. I know they are really happy with the program.
Weeks
:  Nice job representing.