Integrative Collaborative Offers Resource on Evidence-Informed Practice
by John Weeks, Publisher/Editor of The Integrator Blog News and Reports
In the cross-cultural process of clinical integration, the
lingua franca
of conventional parties is scientific evidence. Being in the game requires knowing the language. For some of the once "alternative" fields, science is not the primary native tongue. Now an interprofessional organization representing multiple integrative health professions has come together to produce a
resource guide
on how to prepare for the integration era by achieving competency in what they chose to call "evidence-informed practice." This story began a decade ago, when what is now the
National Center for Complementary and Integrative Health (NCCIH)
chose to invest in the development of "evidence-based medicine" in the licensed integrative health professions. They offered a series of grants linking colleges of chiropractic medicine, acupuncture and Oriental medicine and naturopathic medicine with conventional academic medical centers. The
Academic Collaborative for Integrative Health (ACIH)
– formerly ACCAHC – created a
Project to Enhance Research Literacy (PERL)
through which they disseminated the NCCIH-funded resources on their website.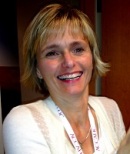 Last week, PERL and its project director,
Deborah Hill, MS
(
pictured left
), announced the new publicly-available resource. A team of 22 of PERL'S mix of academics in chiropractic, acupuncture, massage, naturopathic medicine and direct entry midwifery released an additional resource that grew from those NCCIH grants:
Achieving Competency in Evidence Informed Practice (EIP): A Resource Guide for Educators
. The work was supported by a grant from the
Josiah Macy Jr. Foundation.
A core ACIH focus has been on supporting integrative practitioners in developing the interprofessional
Competencies for Optimal Practice in Integrated Environments
. The resource is tied to Competency 5, "Evidence Based Health Care and Evidence Informed Practice": Explain, evaluate, and apply scientific evidence in the context of practitioner experience and patient preferences and apply evidence informed decision-making in integrated healthcare delivery. The resource document is pegged to
seven sub-competencies
. The target is educators. They offer a
users' guide
. ACIH has made a PDF version available for
download
, and a short
video introduction
. Members of Hill's 22-member interprofessional team that developed the document included: 4 acupuncture and Oriental medicine educators, 2 direct entry midwifery academics, 5 chiropractor educators, 3 naturopathic medicine educators, 4 massage educators, a librarian, an herbalist provost, and a Georgetown University professor.
Comment
: Before the integration era, the integrative professions were pretty much locked in silos. Their educational institutions were – and still mainly are – separated from other professions. They educated student – and principally still do – to hang up their shingles and practice in silos. This project, with which I had an association in former work with ACIH, speaks to the coming era. It recognizes that the competencies that served practitioners in isolated clinics were not enough to support the path out of their silos to step across borders and actively enter the cross cultural world of integrated care. In some respects, this document is a Berlitz course. Though developed for educators, the content can be directly useful to practitioners who want to gain a better sense of what is prioritized, and develop or brush up on their skills. Part of the value is that what one encounters is not the work of a single practitioner or author or even profession. This is content prioritized across multiple professions. Credit ACIH, Hill, and the group for taking the over-assertion of "evidence-based medicine" and turning it into a much better description of the role of research-based evidence in any practice: as an informant, not as a map quest guide.  And credit the NCCIH for funding the early work, in multiple institutions, that provided the ore out of which the project and resource were built.