Does the NIH article on complementary health approaches for skin conditions reflect science?
by John Weeks, Publisher/Editor of The Integrator Blog News and Reports
By chance I was in Snowbird, Utah covering the annual conference of the American Association of Naturopathic Physicians (AANP)

late July when the NIH National Center for Complementary and Integrative Health posted a new "Clinical Digest" entitled
"Skin Conditions and Complementary Health Approaches: What Does the Science Say?"
I ran into a colleague who is an internationally-respected expert on integrative dermatology
Michael Traub, ND, DHANP, CCH, FABNO
and asked him what he thought. Traub had seen the piece. He quickly made it clear that whatever "science" NIH was consulting, it certainly was an anemic version of that which informed his own work.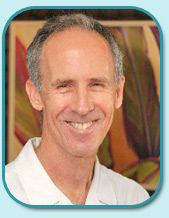 Traub, a 35-year clinician and integrative health policy leader, is the author of a 110-page textbook on dermatology,
"Essentials of Dermatological Diagnosis and Integrative Therapeutics."
I made a mental note to follow-up with him. I scheduled an interview three weeks later. Traub spoke with a non-judgmental tone but did not mince words. "I think that it must not have been written by a subject matter expert." The NCCIH document examines the science behind integrative approaches for atopic dermatitis, psoriasis, acne, impetigo and rosacea. "It has more disinformation and misinformation than accurate information," he added. I told him that this was strong language. He laughed. "Do you want me to use strong language?" Instead of going
there
he continued. "Whoever wrote it has created the impression that there are few studies with generally small sample sizes." He then referenced the multiple studies not referenced that he uses "whenever I give lectures." These are studies "that are not done by clinicians but by researchers." "I think who wrote it did not do a very good review of the literature," he added. " My question:  who wrote this? Was it a graduate student? Somebody tasked to it who doesn't know much? Any literature review must have been cursory. This does not reflect what is out there." We explored whether there was a pattern, perhaps, that the NCCIH was only willing to to cite a few of the highest impact journals. Traub said he saw no pattern of selectivity. He merely stresses that the review was inadequate. I asked him to send a couple of representative examples of research that was not cited in the NCCIH document. He sent these within five minutes of the end of our call:
In the Journal of Drugs and Dermatology, "Inflammatory acne management with a novel prescription dietary supplement" reported that at 8 weeks 81 percent of the patients "rated their appearance as much or moderately better compared with baseline and three-quarters (76 percent) of the patients "thought the combination supplement "was at least as effective as previous treatment with oral antibiotics."
In a 2014 article in the same journal, "Diet and Acne Update: Carbohydrates Emerge as the Main Culprit", the conclusions are that, as Traub put it in an attached note, "the role of diet in the development of acne is no longer a myth."
He offered a 2015 study in the Journal of Translational Medicine on the Mediterranean diet linking fish oils and fish consumption with the severity of psoriasis.
A 2015 study in Dermatology found a strong association between coeliac disease and psoriasis and high level of reversal of psoriasis after a gluten free diet.
The studies Traub quickly sent went on from there. And he assured me that the set he sent did not touch the body of work that informs his practice and his writing and lecturing. "I think if [the NCCIH] is putting out a piece like this it should be tasked to someone who has expertise. It doesn't have that feel at all," he concluded.
Comment
: My elder brother once startled me when I was 19 years old by declaring that "your mother is not my mother." He clarified: While it is indeed true that we came from the same womb, he was the eldest son, I the fourth child. And as every empty baby-book of a second child and failure to buy such a book for the fourth attests, the waters of change in parenting run high with each additional child. So it is with Mother Science. The vast majority pick and choose studies according to the bent of the over-bearing subjectivity that energizes their own, nominal objectivity. Nor is Traub's view the first time someone from the integrative community has been aghast at one or another of the NCCIH publications on "What the Science Says." Colleague Ben Kilgler, MD, MPH and I took a stab at examining these different views of science in
Finding a Common Language: Resolving the Town and Gown Tension in Moving Toward Evidence-Informed Practice
. Yet Traub's charge is of a different order. Essentially, the NCCIH document was effectively sloppy and incomplete work. Were it submitted for peer-review, the unnamed author would have been asked for a major revision prior to publication. Why doesn't the NCCIH show transparency of authorship on these documents? Why not send them for peer review and share, as the National Academies of Sciences do in their reports, who the reviewers are? If Traub's perspective is correct, the NCCIH is damaging the public health of those with skin conditions – who may, for instance, wish to limit their antibiotic use - with this document. I will pass this column forward to the NCCIH and see if there is any response.