Book Excerpt: Nutrition in Clinical Practice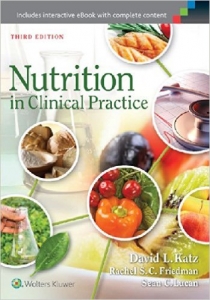 Title: Nutrition in Clinical Practice
Authors: David L. Katz, MD, MPH, FACPM, FACP, Rachel S.C. Friedman, MD, MHS, Sean C. Lucan, MD, MPH, MS
Publisher: LWW; Third edition (September 11, 2014)
Ordering Information: Amazon
In nearly every level of treatment and counseling, care providers must take into account the effects of their patients' diets. Nutrition in Clinical Practice is written to guide health professionals in providing well-informed, compassionate, and effective dietary and weight-management counseling. This fully updated 3rd edition is edited by a leading authority in nutrition and preventive medicine. Practical and evidence-based, chapters address the effects of diet on health and a comprehensive array of illnesses, making it a vital and timely addition to any caregiver's library. Features:
New data from hundreds of recent studies
New section: Contemporary Topics in Nutrition
Easy-reference format includes short chapters, links to current online articles
Contributors representing diverse expertise and practical experience with medical education, nutrition in clinical practice, and preventive medicine
Enhanced coverage of controversial topics, such as, the effects of sugar; health effects of obesity and the 'obesity paradox'; health effects of gluten and grains; nutritional therapy
Appendices includes ancillary materials such as clinically relevant formulas, nutrition data tables, and patient specific meal planners, all fully updated
Now with the print edition, enjoy the bundled interactive eBook edition, offering tablet, smartphone, or online access to:
Complete content with enhanced navigation
A powerful search tool that pulls results from content in the book, your notes, and even the web
Cross-linked pages, references, and more for easy navigation
Highlighting tool for easier reference of key content throughout the text
Ability to take and share notes with friends and colleagues
Quick reference tabbing to save your favorite content for future use
Don't miss the opportunity to hear keynote Dr. David Katz speak at the Integrative Healthcare Symposium Annual Conference February 23-25, 2017 in New York City. Click here for more information.