American Society of Acupuncturists in next collaborative steps

by 
John Weeks
, Publisher/Editor of 
The Integrator Blog News and Reports
While conventional medicine's interest in acupuncture has soared, the profession's national organizations have continuously stumbled, a frustrating challenge for the more than 30,000 licensed acupuncturists in the U.S. A
March 2017 report
on the work of the
American Society of Acupuncturists
(ASA), a group that supports states in their work to advance acupuncture, suggests that durable, collaborative leadership may finally be emerging. The report was from a March 17-18 meeting in Philadelphia convened by the ASA. In attendance were 38 delegates representing 25 state associations.  The
state associations
— that together reflect a
membership of roughly 3,500
—are the ASA's base, convening on-the-ground leaders in legislative and community initiatives. The meeting was organized by the ASA Board, who invited presentations from a diverse set of groups,  including the community acupuncture grassroots
People's Organization of Community Acupuncturists
, the
European Traditional Chinese Medicine Association
, and the
American Association of Acupuncture and Oriental Medicine
, which, 15 years ago, was anticipated to be the field's banner carrier. National leaders of the field's chief educational, accreditation, and certification organizations were in attendance, as well as the president of the
American Association of Medical Acupuncture
, the MD/DO acupuncture professional association.

The picture that emerges is of an ongoing effort to more deeply network acupuncture's diverse organizational players. The report describes 23 accomplishments, many of them still of a formative nature. For example, they "created and evolved interorganizational relationships" with many of these other key players. The ASA leadership announced a commitment "to fostering positive relationships for the benefit of the community." The thoroughly-linked 14-page report shares key policy priorities of ASA and its collaborators. The Herb Committee's
report
notes national submissions on the FDA's New Dietary Ingredients as well as an effort to gather state-by-state information on herb-related scope of practice laws.  Their Opioid Committee is "working with the Foundation for Chiropractic Progress," the chiropractic not-for-profit leading that field's alternative to opioid campaign. ASA is developing an
online site
to post key resources from ASA and its partners, on opioids and other issues. There is ongoing work of a Dry Needling Committee.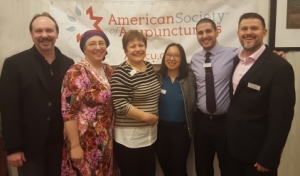 One key ASA strategy is transparency. The organization declares that it "maintains as open and transparent a process as possible." That core characteristic, for a field that has historically been shaped, formed and deformed, by organizational rivalries and jealousies, is everywhere evident in the report. For instance, the 77 page
Board Leadership packet
is available for all to review.  Another area of transparency is the organization's annual budget. The total expenses in 2016 for this work were $27,530 on revenues of just over $30,000.
Comment
: 
I am a fan of this team process
, led by ASA chair
David W. Miller, MD, LAc
); Eric R. Buckley, DOM, vice-chair; Candace Sarges, LAc, immediate past chair; LiMing Tseng, LAc, secretary; and members at large  Amy Mager, LAc and Zeyiad Elias, DAOM, RAc, as is evident. The unfolding work is an elaborate, slow healing process. The gouges were deep. In the 1990s, the licensed acupuncturists created a disastrous split into two organizations, AAAOM and the AAOM. They partly split over whether to link to and respect medical acupuncturists, represented by the AAMC. A hopeful re-convergence ten years later dissembled due to personality and power issues. The community acupuncture group reacted against the field's power structure seeking to create a more affordable option for patients and practitioners alike. Meantime, medical acupuncturists were split on the extent to which to connect with their distinctly licensed fellow acupuncturists. NCCAOM stepped in to fill some gaps, knowing that a certifying organization is not the vehicle for a profession's work. In this context, the ASA slowly took seed, networked into the activist base of the now two dozen plus state associations. This report if hopeful. But, of course, a financial base unable to hire a full-time office worker puts significant restraints on this good work, and intention. At some point, the field needs to aggregate some resources to build presence. Hopefully this merging network will begin to draw more energy of the greenback variety.  The ASA report shows some steps they are taking in this direction.