Vital Nutrients - Berberine 500mg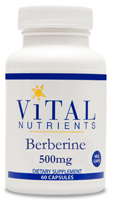 Vital Nutrients is pleased to announce that Berberine 500mg is now available. Berberine 500mg is dosed in vegetarian capsules and available in 60 count bottles. As all Vital Nutrients products,Berberine has been thoroughly screened for authenticity, potency, and purity in accordance with Vital Nutrients' incomparable quality program. 

Berberine is a potent alkaloid extracted from the Berberis aristata plant. Berberine has demonstrated antimicrobial properties and a beneficial effect on gut microbiota.* A growing body of research suggests a wide range of additional uses for Berberine including support for healthy blood sugar levels, cardiovascular health, and normal triglyceride levels.*

Please visit vitalnutrients.net for more information and purchase.