How to Optimize your Practice with Integrative Medicine Protocols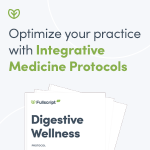 Evidence-based protocols can be indispensable to running an efficient and successful integrative medical practice. For practitioners who are new to practice, protocols provide reliable advice and a strong foundation for treatment plans. For practitioners with years of experience, protocols provide updated guidance on the most current therapies.
Get to know evidence-based protocols and learn about how they can help you with your practice.
Thank you for downloading!