Dietary Supplements - A Clinical Guide for Practitioners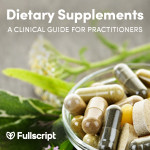 From nutraceuticals to botanicals to multi-ingredient formulations, there's no shortage of options for practitioners interested in recommending supplements, and the industry continues to innovate at an incredible pace. With thousands of products available through Fullscript, it's sometimes difficult to know where to start. As healthcare practitioners, it's critical that we remain well-informed about all the options available to us so that we can best support our patients.
We hope this booklet provides you with the initial information needed to comfortably use dietary supplements in your practice. Our world-class customer success team is always available to answer questions or connect you with our integrative medical advisory team for guidance on product selection and protocol development.
Thank you for downloading!