Integrative Practitioner Digital Summit
IMMUNITY - AUGUST 6
Session 2: Clinical Lessons on Use of Probiotics/Prebiotics (Synbiotics) from Highly Immunocompromised CKD Patients to Expand Better Immunity in Other Disease Applications
It is well known that at the tissue level, inflammation is characterized by redness, swelling, heat, pain, and loss of tissue function, which results from local immune, vascular and inflammatory cell responses to infection or injury. Inflammation is the immune system's response to harmful stimuli, such as pathogens, damaged cells, toxic compounds, or irradiation, and acts by removing harmful stimuli and initiating the healing process. The speaker will trace his company's 22 years of R&D and product development journey in arresting the decline of Kidney function. Kidney failure patients are highly immunocompromised with weak immunity and an inferior quality of life. The company's flagship product Renadyl™, works on its platform technology called "Intestinal Dialysis™." Intestinal Dialysis is shown to delay the need for Dialysis, which is possible with a combination of highly strain-specific probiotics and well-characterized prebiotics (fibers) towards Veterinary and human applications. Renadyl works by modulating the gut microbiome of renal failure patients by alleviating inflammation, reducing oxidative stress, infections, and improving immunity.
The gut immune homeostasis is how our immune system guards and protects us from invading pathogens. Clinically well studied and documented Probiotics and prebiotics can help regulate the functioning of the immune system. Now more than ever, there is an immediate need for all to have a good functioning immune system.
Educational session sponsored by: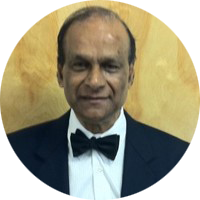 Speaker: Natarajan Ranganathan, PhD
Dr. Natarajan Ranganathan (Dr. Rangan) is the key founder and Managing Director (R&D) of Kibow Biotech Inc. located in Newtown Square, PA - USA.
Dr. Rangan has been a medical researcher and entrepreneur for over forty years. He earned two master's degrees (organic chemistry and biochemistry) from the University of Poona, India and obtained a Ph.D. in Bio-organic chemistry from Temple University, Philadelphia. He received further academic training at the University of Pennsylvania, Hahnemann Medical College, Philadelphia, and Johns Hopkins Medical Institutions, Baltimore. His postdoctoral work and subsequent academic efforts were focused in the disciplines of reproductive, radiation and nuclear medicine. He is also the key founder of Kibow Biotech® Inc. – a 22-year-old biotechnology company specializing in the clinical utility of probiotics and prebiotics towards Chronic Kidney Disease and other applications.