Integrative Practitioner Digital Summit
September 20 – Environmental Medicine
Midday Movement: Breathwork and Yoga for Mindfulness
September 20, 2022 12:45 – 1:15pm ET ADD TO CALENDAR
Take a break from the day's activities to return to your breath and take part in a slow, restorative yoga practice that will nourish your whole being.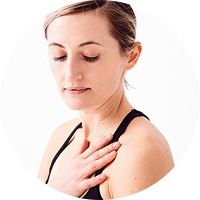 Speaker: Kate Brigham
The owner of Sacred Machine Yoga Studio in South Portland, Maine, Kate Brigham has always loved to create and process through movement. Kate attended Bates College, where she majored in Dance and Women's Studies under the legendary Marcy Plavin. Post college she led her own modern dance company in Brooklyn, New York and Cambridge, Massachusetts while also dancing for and learning from other incredible artists. Yoga had always been a complementary practice to her dancing, and as time progressed, it became a more prominent aspect of Kate's movement ritual.
In 2012 she was compelled to become certified as a 200-hour teacher with O2 Yoga in Cambridge, Massachusetts. Kate further expanded her knowledge of alternative methods by receiving certifications in Integrative Wellness and Life Coaching, Yin Yoga, Yoga Nidra, and Reiki II. In early 2021 she completed her 500-hour yoga teacher certification through Arcana School of Yoga. In early 2021 Kate launched the digital leg of Sacred Machine, providing online yoga practice, and in fall 2021, opened her physical space.
Kate has personally lived, and fervently believes in, the healing power of creatively sequenced movement. In times of joy and delight, the connection it creates between the intellectual and the emotional allow her to fully live in the present and inspire innovation throughout all areas of life. During Kate's debilitating struggles with post-partum depression and anxiety, she explored release via expressive movement. Kate found solace and the capacity for self-compassion in those moments between breaths. Kate is a strong advocate of the power of mind-body integration, and the truly transformative powers that it holds for all.