ImmunoLin: The Missing Piece to the Gut Health Puzzle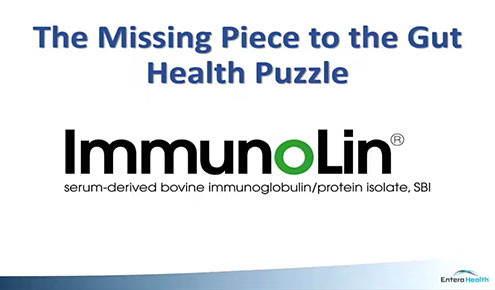 Sponsored by Daiwa Health Development
McClain Haines from Entera Health will be speaking on serum immunoglobulins and how they play a vital role in the reduction of inflammatory microbial pathogens in the gut.
Learning Objective #1: Explore the role that IgG has on the microbiome and a healthy immune system.
Learning Objective #2: Review the MOA for ImmunoLin, the world's only serum antibody with over 45 human clinical trials.
Learning Objective #3: Dive into the clinical research and practical benefits of utilizing ImmunoLin to complete the gut health puzzle.
Speaker:
Mac Haines
McClain Haines is the lead ImmunoLin representative for Entera Health, a bio-pharmaceutical company focusing on utilizing serum antibodies for use in prescription and dietary supplement products for digestive health, immune support, and sports nutrition. A curious and dedicated problem solver, "Mac" as he goes by, has been formulating new products and driving value in the pharmaceutical and dietary supplement space for 3 years. Prior to his time at Entera Health, Mac aided the placement of many healthcare providers throughout the state of Iowa. He may have studied Business at Iowa State University, but his passion has always been helping people which has made him a valuable team member for Entera Health. When he is not formulating new products with his team, Mac loves spending time with his fiancé, playing sand volleyball, slow-pitch softball, and cheering on the Iowa State Cyclones.
This presentation was originally offered at the 2023 Integrative Healthcare Symposium in New York City.