Vaping cannabis may expose users to carcinogenic compounds, new study says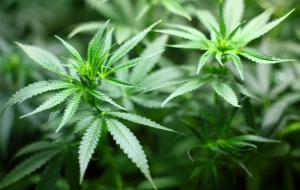 New research shows that the agents commonly mixed with cannabis oil for vaping can also produce cancer-causing compounds when heated. The effect is similar to the potential health risks linked to cigarette smoke and agents used in e-cigarettes. The study demonstrates that exposure to harmful levels of formaldehyde can come with a single inhalation of vaporized cannabis oil, according to research published in The Journal of Alternative and Complementary Medicine (JACM). In the article, "
Carbonyl Compounds Produced by Vaporizing Cannabis Oil Thinning Agents
," William Troutt, NMD and Matthew DiDonato, PhD, of the Medical Marijuana Research Institute in Tempe, Arizona, found that one inhalation of the vapor produced by heating polyethylene glycol (PEG) 400 put an individual at risk for 1.12 percent of the daily formaldehyde exposure limit. The researchers tested four thinning agents commonly used to vaporize cannabis oil--propylene glycol, PEG 400, vegetable glycerin, and medium chain triglycerides and the levels of three compounds that have the potential for serious health effects in the vapors produced when the agents were heated to the temperature needed to vaporize cannabis oil. Users should be aware of potential harms of using vaporized cannabis oils, according to the study, and know what thinning agents are used in the products they consume, as we learn more about their effects when vaporized and inhaled.
Click here
to learn more.