Mainstream Academia Adopt Integrative Health Principles
by John Weeks, Publisher/Editor of The Integrator Blog News and Reports
In a series of recent actions, diverse players in mainstream academic medicine are showing that something outside of the reactive disease model is on the ascendancy. One way the new direction is appearing is in the form of interests and themes that have long characterized the functional outcomes sought by practitioners in the integrative health and medicine fields: self-care, wellbeing, and resilience. In fact, integrative health leaders are often involved. Here are some recent examples:
June 2016 AAMC Leadership Forum
The Association of American Medical Colleges (AAMC), the powerful organizing and lobbying force for that field, dedicated its 2016 meeting to a topic addressing "depression, resilience, burnout, and increased suicide among physicians, residents, and students." Many of these resources are on the new website noted immediately below.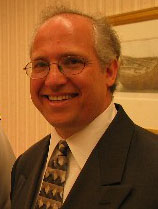 "Well-being in Academic Medicine"
This is a
new website
from the AAMC. They explain that "well-being in academic medicine has emerged as a critical issue facing faculty, physicians, researchers, residents, and students." The site includes a PowerPoint and an interview with Georgetown University integrative health and medicine leader
Aviad (Adi) Haramati, PhD
(
pictured left
) a national leader in academic integrative medicine and in the resiliency movement.
Stress & Burnout Questionnaire from the National Academies of Sciences
was sent out July 15 called "Stress and Burnout in the Health Professions and in Health Professional Education." It was developed by an interest group of the
Global Forum on Innovation in Health Professional Education
that is exploring high rates of stress in the health professions. The Global Forum has members from virtually all health professions, including the
Academic Collaborative for Integrative Health (ACIH)
which involves academic organizations from chiropractic, acupuncture, naturopathic medicine, massage, direct-entry midwifery, others.
Harvard Medical School Compassion in Practice
A conference October 28-29, 2016 will be entitled: "Compassion in Practice: Achieving Better Outcomes by Maximizing Communication, Relationships and Resilience." The
program
will include "sessions led by faculty in neuroscience, clinical education, and other disciplines and is designed for physicians, nurses, and health care professionals and educators who wish to enhance their communication skills, optimize professional relationships and ability to work in teams, and improve their efficiency and enjoyment of clinical practice." The keynote will be from Richie Davidson, PhD, the neuroscientists who is a close collaborator with the Dalai Lama. (See related
Integrative Practitioner piece here
.) These recent actions, and planned activities, follow on a series of additional events in the last 3 years that have helped stimulate the new engagement.
Establishing Transdisciplinary Professionalism for Improving Health Outcomes
, a
report from a 2013 event
of the Global Forum noted
above, includes a segment on
The Case for Integrating Health, Well-Being, and Self-Care into Health Professional Education
.  The authors of the section are long-time integrative health leaders Mary Jo Kreitzer, RN, PhD, FAAN (
pictured right
), and Elizabeth A. (Liza)Goldblatt, PhD, MPA/HA, now the executive director of ACIH.
Georgetown University CENTILE Conference
in October 2015 was entitled
"International Conference to Promote Resilience, Empathy and Well-being in Health Professional Education."
  The conference was led by Haramati and included numerous presentations from integrative health leaders. Among co-sponsors were Kreitzer's Center for Spirituality and Healing at the University of Maryland and Maryland University of Integrative Health.
Symposium on Physician Well-being
on November 17-18, 2016 was a
gathering organized
to bring "together important representatives across the medical continuum, as well as well-being experts from both in and out of the medical continuum, to engage in the critical discussion necessary to initiate transformational changes." It was sponsored by the Accreditation Commission on Graduate Medical Education (ACGME).
Comment
:  Physicians (and practitioners of all kinds):
Heal Thyself.
 Health professions schools and delivery organization:
Heal thy students!
  A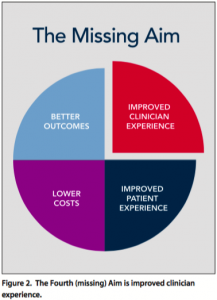 reasonable argument can be made that a system that focuses on health rather than operating continuously in reaction to disease
must
begin with well-being and resilience initiatives such as these. This is not necessarily a no-brainer for leaders of regular medicine. For instance, when the movement for value-based medicine began, the health of the practitioner was not considered. The
"Triple Aim"
goals were set to enhance patient experience, improve population health and lower-per capital cost. All laudable, but on whose shoulders was the burden of fulfilling on these responsibilities? Within a few years a UCSF professor sent out a corrective "oops!" What about the experience of practitioners? Isn't stress and burnout already rampant? And now we are loading even more responsibility on practitioners even as their usual means of payment and livelihood is being questioned. The case for a
Quadruple Aim
was announced. These are healthy signs within regular medical and health professions education. Is it possible that once resiliency and well-being are understood by, and supported by, practices of a greater number of clinicians, that maybe their patients may be served up a bit more well-being as well?