Integrative health veteran Alyssa Wostrel tabbed to lead "The Collaborative"

by John Weeks, Publisher/Editor of The Integrator Blog News and Reports
Editor's note: This analysis article is not edited and the authors are solely responsible for the content. The views and opinions expressed in this article are those of the authors and do not necessarily reflect the official policy or position of Integrative Practitioner.
Alyssa Wostrel, MBA, a veteran with leadership in a prior national integrative health organization, has been selected to serve as executive director of the interprofessional Academic Collaborative for Integrative Health (ACIH).
"The Collaborative" is a 14-year-old organization that is dedicated to "enhance(ing) health by cultivating partnerships and advancing interprofessional education and collaborative practice." Its core member organizations are councils of colleges, accrediting and testing bodies for the fields of chiropractic, acupuncture, naturopathic medicine, massage therapy and certified professional midwifery.

Contacted on her selection, Wostrel – who was from 2012-2016 the executive director of the Integrative Health Policy Consortium (IHPC) – noted that "whole health and integrative educators and professionals are fortunate to have collaboratives and consortiums like the Collaborative, the Consortium [Academic Consortium for Integrative Medicine and Health], IHPC and the Academy of Integrative Health and Medicine representing their voice on key issues. I'd like to see more intentional partnerships amongst these allied organizations. We are stronger together."
The Collaborative's notice to members on Wostrel's selection shared that she had a leader role with Taylor Walsh in development of the CoverMyCare effort for full implementation of Section 2706, the Non-Discrimination Provision of the Affordable Care Act. Wostrel reportedly more than doubling IHPC's membership.
Wostrel credits the IHPC for preparing her for her new post: "I was fortunate to be mentored by several seasoned IHPC board members about development and fundraising, board governance and the anchors of organizational culture and values. I gained a deep appreciation of the importance of cultivating partnerships on multiple levels."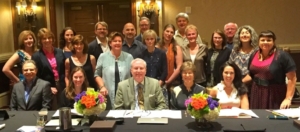 The Collaborative's board chair David O'Bryon, JD, the executive director of the Association of Chiropractic Colleges, notes that Wostrel's hiring comes at a transitional time. For the first time, the organization's director will not work virtually. Wostrel will work instead from an office on the campus of Southern California University of Health Sciences (SCU). SCU's president, John Scaringe, DC, EdD, serves as treasurer for the Collaborative.
Scaringe heralds the hire: "I am pleased to welcome ACIH to our campus. I have personally been involved with the organization for years, and I feel strongly that the ACIH Executive Director will immediately feel at home on our campus as the organization's collaborative mission complements our college culture."

Wostrel spoke to the new situation: "I'm honored to take on the executive director role and am looking forward to entering the interprofessional education realm. SCU is not only a great cultural match but also a wonderful opportunity to connect with students about the riches and necessity of inter-professionalism and team building."
Her term begins in May. Wostrel will collaborate closely with an executive committee to the Collaborative's board (pictured above) that includes, besides O'Bryon (L) and Scaringe (C): vice-chair JoAnn Yanez, ND, MPH, the executive director of the Association of Accredited Naturopathic Medical Colleges; secretary Dale Healey, DC, PhD, with the Commission on Massage Therapy Accreditation; and Stacy Gomes, Ed, MEd, from the Council of Colleges for Acupuncture and Oriental Medicine.
Wostrel replaces Elizabeth A. Goldblatt, PhD, MPA/HA, a co-founder of the organization who served over 7 years as chair then three more in a transitional role as acting executive director.