How to use Protocols in your Online Dispensary with Dr. Gladd, MD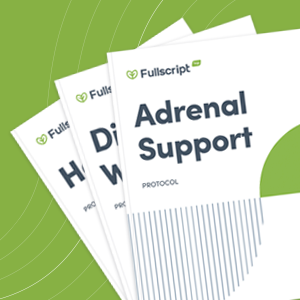 Fullscript protocols are designed to make it easy for practitioners to confidently create individualized treatment plans for their patients, improving both clinical efficiency and efficacy. Used as a starting point when developing treatment plans, protocols may be adjusted to take into account individual differences, such as patient allergies, diet, and lifestyle.

In this webinar, Dr. Jeffrey Gladd, Fullscript Chief Medical Officer, will:
Provide an introduction of the three types of protocols available on Fullscript

Explain how Fullscript protocols are developed

Outline the purpose and benefits of using protocols

Provide tips and best practices to effectively use protocols in your practice
---
Dr. Jeffrey Gladd, MD, Chief Medical Officer
Fullscript
Dr. Jeffrey Gladd graduated from Indiana University School of Medicine in 2001. He then went on to train in family medicine at Ball Memorial Hospital in Muncie, Indiana. After completing his residency, Gladd started a family practice that encompassed full spectrum care, including obstetrics, colonoscopy and endoscopy in Columbia City, Indiana in 2006. After the birth of his second child, Gladd transformed his professional and personal focus toward health through nutrition. By educating himself and applying the principles of eating whole foods, he lost 50 pounds, and reveled in improved energy and mental clarity. As a physician, increasing doses and adding medications was no longer acceptable. Gladd delved into his patients' lives — how they ate, how they managed stress, and discovered real health care.
Gladd completed the University of Arizona Integrative Medicine fellowship program under the direction of Dr. Andrew Weil, MD at the end of 2009. While in the fellowship, Gladd served as the medical director of the Parkview Center for Integrative Medicine in Fort Wayne, Indiana, and in 2010 opened GladdMD Integrative Medicine where he blends health-promoting care with high access technology.
With the success of GladdMD, Dr. Gladd has become a sought after speaker on physician entrepreneurship, social media, and technology in healthcare. He is a regular speaker at Holistic Primary Care's annual Heal Thy Practice conference and assists the Arizona fellowship by sitting on the business panel annually.
In 2008 Gladd founded and launched PureHealthMD.com, a website housing professionally authored-content to educate people on the lifestyle aspects of health. In 2010, he and his partners successfully sold the content to the Discovery Channel. In 2011, he created and launched the web's first nutrient depletion calculator, Mytavin.com. His technology focus currently is on building GladdMD.com. He is also helping Hello Health promote and develop their innovative social media interface for medical practices.
Gladd lives in Columbia City, Indiana, with his wife, Neely, a nurse practitioner and their three children: Sam, Lily and Maggie. He enjoys biking, baseball and fishing.
Thank you for downloading!