Botanical Strategies for Cardiovascular Support - Free!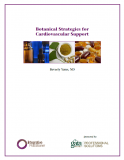 In this new report, Beverly Yates, N.D. discusses common cardiovascular problems and various botanical treatment options. This report looks at botanical partners for healing such as:
Hawthorn
Tumeric
Curcumin
Gingko
Learn about the consequences of inaction, scientific facts about botanical treatment and patients who may benefit from botanical interventions.