IHSNY2017 featured books and authors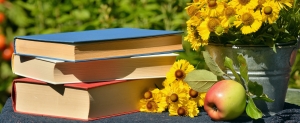 The Integrative Healthcare Symposium is the only event where multi-disciplinary practitioners come together as a cohesive community. Attendees gather to connect, learn, collaborate, and return to their practices with insights and techniques they can immediately incorporate into their patient practice.We will be offering attendees the option to purchase new and trending books as well as a chance to meet your favorite authors in integrative medicine. Here's a sneak peek at some of the books that will be available at IHSNY2017.
Don't miss the opportunity to hear these authors speak at the Integrative Healthcare Symposium Annual Conference February 23-25, 2017 in New York City. Click here for more information.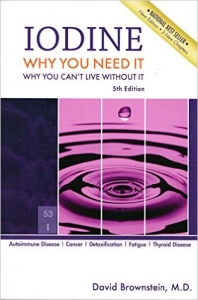 Iodine: Why You Need It, Why You Can't Live Without It
by David Brownstein"Iodine is the most misunderstood nutrient. After 17 years of practicing medicine, I can say that it is impossible to achieve your optimal health if you do not have adequate iodine levels. I have yet to see any item that is more important to promoting health or optimizing the function of the immune system than iodine. Learn what forms of iodine you need and why there is not enough iodine in salt. See how iodine can help: breast cancer, fibrocystic breast disease, detoxification, fatigue, Graves' disease, and Hashimoto's disease. Find out why iodine deficiency may be the root cause of thyroid problems including hypothyroidism and thyroid cancer. Discover how to get iodine in your diet and improve your immune system."
Click here
for more information.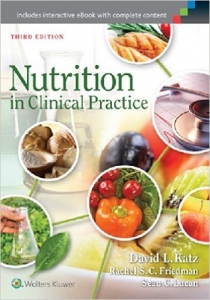 Nutrition in Clinical Practice
by In nearly every level of treatment and counseling, care providers must take into account the effects of their patients' diets. Nutrition in Clinical Practice is written to guide health professionals in providing well-informed, compassionate, and effective dietary and weight-management counseling.This fully updated 3rd edition is edited by a leading authority in nutrition and preventive medicine. Practical and evidence-based, chapters address the effects of diet on health and a comprehensive array of illnesses, making it a vital and timely addition to any caregiver's library.
Click here
for more information.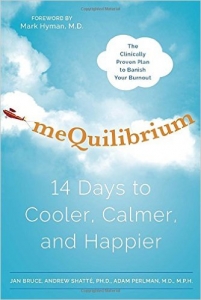 meQuilibrium: 14 Days to Cooler, Calmer, and Happier
by Jan Bruce, Andrew Shatte, Ph.D., and Adam Perlman, MD, MPHYou
can't
annihilate stress. But you can learn to manage it peacefully—and you don't need to radically change your life to do so.The powerful author team who crafted this book has the research to prove it—with more than a half dozen studies to date showing the program's efficacy. Marrying the whole-person, systemic approach of integrative medicine with the science of resilience and the tenets of positive psychology, the authors created a method that attacks stress on every level.  This three-pronged approach gets at its roots, so stress can't flourish, but you can.  In just 14 days, the authors teach you a new way to respond and, in turn, a new way to live.
Click here
for more information.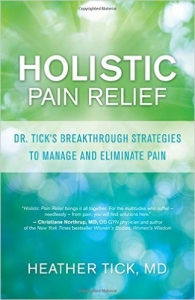 Holistic Pain Relief: Dr. Tick's Breakthrough Strategies to Manage and Eliminate Pain
by Heather TickChronic pain has become an epidemic in North America, yet our current health care system is ill equipped for treating sufferers. An expert in both conventional and holistic medicine, Dr. Heather Tick has spent twenty-five years treating patients for whom "all else has failed." Based on her experience, Holistic Pain Relief offers practical guidance to anyone with pain. It includes easy-to-implement solutions for effective and permanent pain relief and also offers help to those with chronic conditions who feel confused, worried, or hopeless.Dr. Tick presents a new way of looking at pain with a focus on health. By helping you make informed choices about physical, emotional, and spiritual living, Holistic Pain Relief offers possibilities for recovery and information on a wide range of treatment and prevention options, including acupuncture, chiropractic techniques, intramuscular stimulation, dietary supplements, medication, nutrition, and exercise. The result is a realistic—and inspiring—prescription for pain-free living.
Click here
for more information.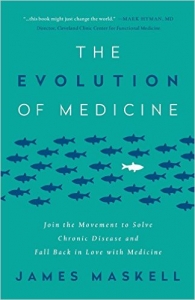 The Evolution of Medicine: Join the Movement to Solve Chronic Disease and Fall Back in Love with Medicine
by James MaskellFor all too many dedicated physicians, stuck in a cycle of seven-minute patient visits and production line healing, medicine has become a frustrating vocation. Furthermore, the current epidemic of chronic illness demands a new care standard that can break down the existing structural barriers to full resolution. It requires functional medicine. The Evolution of Medicine provides step-by-step instruction for building a successful "community micropractice," one that engages both the patient and practitioner in a therapeutic partnership focused on the body as a whole rather than isolated symptoms. This invaluable handbook will awaken health professionals to exciting new career possibilities. At the same time, it will alleviate the fear of abandoning a conventional medical system that is bad for doctors, patients, and payers, as well as being ineffectual in the treatment of chronic ailments. Welcome to a new world of modern medical care, delivered in a community setting. It's time to embrace the Evolution of Medicine and reignite your love for the art of healing.
Click here
for more information.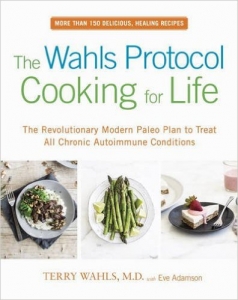 The Wahls Protocol Cooking for Life: The Revolutionary Modern Paleo Plan to Treat All Chronic Autoimmune Conditions
by Terry Wahls, MD
Available April 4, 2017. 
The Wahls Protocol has become a sensation, transforming the lives of people who suffer from autoimmune disorders. Now, in her highly anticipated follow-up, Dr. Wahls is sharing the essential Paleo-inspired recipes her readers need to reduce and often eliminate their chronic pain, fatigue, brain fog, and other symptoms related to autoimmune problems, neurological diseases, and other chronic conditions, even when physicians have been unable to make a specific diagnosis. Packed with easy-to-prepare meals based on Dr. Wahls's pioneering therapeutic lifestyle clinic and her clinical research, in a simple format readers can customize to their own needs and preferences, this cookbook features breakfasts, smoothies, skillet meals, soups, wraps, salads, and snacks that are inexpensive to prepare, nourishing, and delicious. With strategies for cooking on a budget, reducing food waste, celebrating the holidays without compromising health, and helpful tips from fellow Wahls Warriors, The Wahls Protocol Cooking for Life will empower readers to make lasting changes and finally reclaim their health.
Click here
for more information.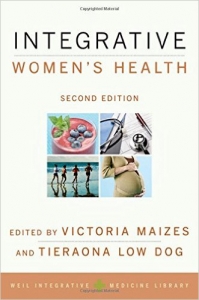 Integrative Women's Health
Integrative Women's Health remains the only in-depth, broad-based reference on integrative women's health written for health professionals. It helps providers address not only women's reproductive health, but also conditions that manifest differently in women than in men, including cardiovascular disease, arthritis, HIV, depression, and cancer. The text presents the best evidence, in a clinically relevant manner, for the safe and effective use of herbs, vitamins, diet, and mind-body strategies alongside conventional medical treatments. As leading educators in integrative medicine, editors Dr. Maizes and Dr. Low Dog demonstrate how clinicians can implement their recommendations in practice, going beyond practical care to examine how to motivate patients, enhance a health history, and understand the spiritual dimensions of healing. In managing the patient, alternative therapies are never seen as substitutes for mainstream medical care, but always "integrated" into the overall regimen, and always subjected to the best available evidence. New to this second edition are chapters on environmental medicine and women's reproduction, thyroid health, and lesbian health.
Click here
 for more information.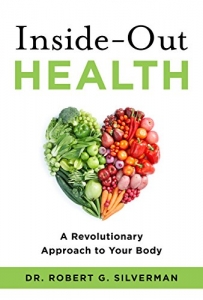 Inside-Out Health: A Revolutionary Approach to Your Body
by Dr. Robert G. SilvermanConventional medicine treats symptoms, not systems. Chances are you're being treated for your health issues from the outside in, in ways that only mask the real problems.Dr. Rob Silverman thinks differently. A practitioner of functional nutrition, he believes that healing and vibrant good health come from a holistic approach. In Inside-Out Health: A Revolutionary Approach to Your Body, he shows you exactly how to turn your health around in an entirely new and different way.Take charge and improve your wellbeing with actionable steps you can do yourself, starting now.
Click here f
or more information.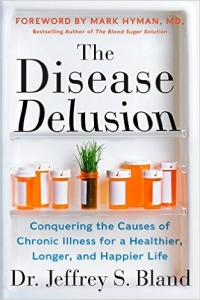 The Disease Delusion: Conquering the Causes of Chronic Illness for a Healthier, Longer, and Happier Life
For decades, Dr. Jeffrey Bland has been on the cutting edge of Functional Medicine, which seeks to pinpoint and prevent the cause of illness, rather than treat its symptoms. Managing chronic diseases accounts for three quarters of our total healthcare costs, because we're masking these illnesses with pills and temporary treatments, rather than addressing their underlying causes, he argues. Worse, only treating symptoms leads us down the path of further illness.In
The Disease Delusion
, Dr. Bland explains what Functional Medicine is and what it can do for you. While advances in modern science have nearly doubled our lifespans in only four generations, our quality of life has not reached its full potential. Outlining the reasons why we suffer chronic diseases from asthma and diabetes to obesity, arthritis and cancer to a host of other ailments, Dr. Bland offers achievable, science-based solutions that can alleviate these common conditions and offers a roadmap for a lifetime of wellness.
Click here
 for more information.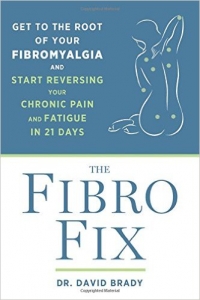 The Fibro Fix: Get to the Root of Your Fibromyalgia and Start Reversing Your Chronic Pain and Fatigue in 21 Days
by David M. BradyChronic pain affects nearly 100 million Americans. Ongoing fatigue affects even more. The combination of fatigue and body-wide chronic pain, often called "fibromyalgia," remains mysterious and confusing, and an alarming 66 percent of sufferers are misdiagnosed. Now, leading naturopathic medical doctor and nutritionist David Brady is here with the answer in his comprehensive book
The Fibro Fix
.For more than 23 years, Dr. Brady has treated many thousands of patients seeking relief from fibromyalgia. In
The Fibro Fix
, he distills his life-changing prescription into an integrative 21-day program to help you determine if, in fact, you're suffering from fibromyalgia or from one of several severe symptoms misdiagnosed as fibromyalgia. The plan begins with three simple steps―detox, diet, and movement―to start relieving those symptoms for good and then offers deeper long-term solutions specific to the real cause in each person.
The Fibro Fix
is your groundbreaking guide to resolving fibromyalgia, and uncovering the mystery behind chronic pain and fatigue.
Click here
for more information.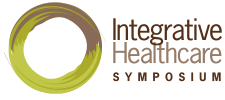 Register for IHSNY2017 today! 
Don't miss the opportunity to hear these authors speak at the
Integrative Healthcare Symposium Annual Conference
February 23-25, 2017 in New York City.
Click here
for more information.