Breakthrough Depression Solution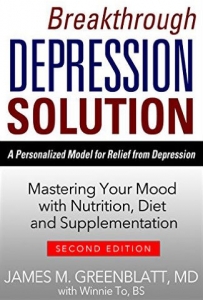 Depression cannot be seen, heard, or felt during a physical exam. Yet depression is a life-threatening, life-robbing, and disabling disorder. According to the World Health Organization, it is the leading cause of disability worldwide. Modern medications are effective in only 33 percent of patients who seek help for depression.
In his much-anticipated updated edition of The Breakthrough Depression Solution, Dr. James Greenblatt takes the reader through core concepts of depression and integrative treatment therapies. He seeks to dispel some of the myths surrounding the concept of incorporating what used to be called "alternative" medicine into a patients' treatment plan. Now more commonly recognized as integrative medicine, this treatment protocol combines conventional and alternative methodologies using evidence-based medicine.
Dr. Greenblatt suggests that many physicians who have been charged with treating depression rely almost exclusively on a pure drug model, which often results in multiple medications and little therapy or face-to-face time between the patient and the physician. The side effects of the medication(s) often leave the patient frustrated, resulting in the refusal to comply with the medication regiment.
According to Dr. Greenblatt, the medical community can do better. "The medical treatment of depression is currently not good enough," he stipulates in the introduction to The Breakthrough Depression Solution, "We can do better, much better […] It's time for an approach to depression that combines traditional medical science with nutritional and metabolic therapies."
This latest edition offers readers a personalized model of integrative medicine with simple, safe, and effective treatment models that can be applied to your patients who are currently suffering from depression.
Order The Breakthrough Depression Solution at any of the online booksellers below:
About the Author of The Breakthrough Depression Solution: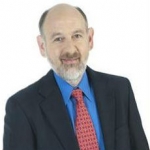 A pioneer in the field of integrative medicine, James M. Greenblatt MD has treated patients with complex behavioral and mood disorders since 1990. After receiving his medical degree from George Washington University School of Medicine, Dr. Greenblatt completed his psychiatry residency at George Washington University Medical Center. Dr. Greenblatt went on to pursue a two year fellowship at John Hopkins University School of Medicine to become board certified in child and adolescent psychiatry where he also served as the Chief Resident. During the fellowship, Dr. Greenblatt received specialized training in the diagnosis and treatment of disorders that appear in childhood, such as attention deficit hyperactivity disorder (ADHD), behavioral disorders, autism spectrum disorders, and complex mood and anxiety disorders.
Following the fellowship, Dr. Greenblatt noticed the current treatment model in psychiatry relied solely upon symptom-based recommendations for medication with little consideration for the biochemical individuality or the underlying biological mechanisms that may be contributing or causing symptoms. This prompted Dr. Greenblatt to develop an outpatient clinic, Comprehensive Psychiatric Resources, which provided patient-centered care for families with children struggling with ADHD and other behavioral disorders. Dr. Greenblatt was one of the very few physicians at that time who knew how to utilize nutritional interventions to help patients achieve relief from their symptoms. His work in the 1990's was years ahead of his time, as the field of psychiatry had not yet understood how genetics, nutrition, and biochemistry played a role in an individual's mental wellbeing. Dr. Greenblatt's expertise in integrative medicine attracted patients from all across the world seeking consultations for complex mood, behavioral, and eating disorders.
Dr. Greenblatt currently serves as the Chief Medical Officer at Walden Behavioral Care in Waltham, MA and serves as an Assistant Clinical Professor of Psychiatry at Tufts University School of Medicine and Dartmouth College Geisel School of Medicine.