Infographic: Milestones in Bovine Colostrum Research & Development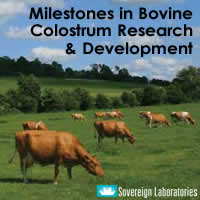 Follow the quarter century journey of research and development of bovine colostrum supplements for modern human use with Sovereign Laboratories. Sovereign Laboratories celebrates 25 years as an industry leader with its signature product, Colostrum-LD® and proprietary Liposomal Delivery for maximum bioavailability and efficacy.
Thank you! You should be receiving an email shortly with your content.