PERQUE Integrative Health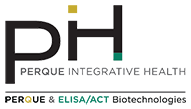 The roots of PERQUE Integrative Health, LLC (PIH) are imbedded in the history and works of the scientist who founded the company and who has remained, with the support of a dedicated staff, at its helm for over 24 years.
Dr. Russell M. Jaffe, CEO and Chairman of PIH worked at the National Institutes of Health (NIH) from 1973 to 1979 where the seeds of his vision began. On leaving NIH Dr. Jaffe began a journey that sought to support the emerging field of Integrative and Regenerative Medicine. His dedication to the application of primary prevention and his commitment to providing superior nutraceuticals and autoimmune testing with clinical evidence of superior efficacy has made him a sought after speaker and leader in his chosen field. In 1984 after, five years of research, Dr. Jaffe invented a process that would eventually lead him to the family of companies he runs today. This innovation's primary effort was to create a technology platform for measuring and monitoring all delayed allergies in the world's first single step amplified (ELISA) procedure. When accomplished it was the first performed in a living cell through an advanced culture technique (ACT). Today with over 50,000 cases in the lab database it remains a vibrant part of Dr. Jaffe's integrated operations.
Today, the company creates integrated systems that implement assessment protocols and tools that combine information technology with advanced products for enhanced understanding, compliance and monitoring outcomes.
---