Webinar: Enteric Dialysis® – No Longer Fiction, but a Reality!
Sponsored by: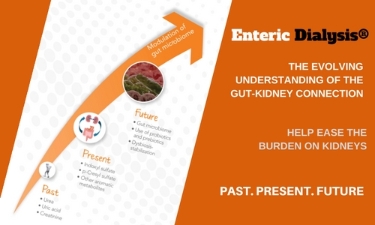 In 1996, the question originated from Dr. Eli A Friedman's article, "can the Bowel act as a kidney substitute in advance renal failure?" prior to the discovery of the gut microbiome. The bowel was recognized as an organ in 2004 in Proceedings of the National Academy of Science. Advances in bioinformatics led to further understanding of the human gut microbiome. Exponential advances in technology led to a greater knowledge and understanding of the gut microbiomes' role in health, and disease. The knowledge gained, lead to further understanding of the term dysbiosis (an imbalance of pathogenic gut bacteria). Now, dysbiosis is universally documented as the prime cause for various diseases. The connection between the gut and CKD became evident with the cover article in the Sept/2012 issue of Kidney International. Followed by, the publication of a similar article in Clinical Kidney Journal in 2015. In 1997 Enteric Dialysis® was transformed from a concept into a reality, by Dr. Ranganathan and his research team at Kibow Biotech Inc. After 20 years of R&D, Kibow has used clinical findings of pro/prebiotics to modulate the gut microbiome to improve clinical outcomes in CKD patients worldwide.
---

Dr. Natarajan Ranganathan, PhD
Dr. Natarajan Ranganathan, PhD, (Dr. Rangan) is the key founder and Managing Director (R&D) of Kibow Biotech, Inc a pioneering company in the field of understanding the Gut Microbiome, Dysbiosis, and its stabilization with Probiotics and Prebiotics towards health, disease and healing processes. As a medical R&D professional, Dr. Rangan brings significant professional expertise and knowledge related to various medical specialties specifically in connecting mind-body, Gut-Brain, Gut-Kidney and integrated holistic medical fields. For the past four decades, in his role as a medical R&D professional specializing in the clinical utility of probiotics towards Chronic Kidney Disease and related applications, Dr. Rangan has gained significant professional expertise and has become a respected and sought after speaker at various scientific events in addition to a requested peer reviewer for various medical journals.
He obtained dual master's degrees (organic chemistry and biochemistry) from the University Of Poona, India and earned his doctoral degree in Bio-organic chemistry from Temple University, Philadelphia. He received further academic training at the University of Pennsylvania, Hahnemann Medical College, Philadelphia, and Johns Hopkins Medical Institutions, Baltimore.
---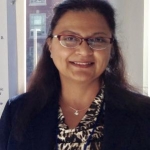 Usha Vyas, MSc
Usha Vyas, MSc, is a senior microbiologist at Kibow Biotech Inc, which develops probiotic dietary supplements. She earned her Master's Degree in Microbiology from India and received two gold medals for standing first in the university in Chemistry at the undergraduate level. Her career as a microbiologist began with Alembic Limited, a generic pharmaceutical company in India where she worked in the fermentation R&D labs with industrial bacteria which produce important drugs like Erythromycin, Tacrolimus, Lovastatin and Penicillin. During her 22 year tenure with Alembic she published two patents. In her capacity as a Manager and Head Scientist she worked with cross functional teams and groups from R&D to manufacturing, quality control and marketing and was heading the fermentation labs. Her present work at Kibow involves R&D of new probiotic formulations for various applications; oversees quality control for current products and manages lab operations. For last 7 years she has been speaking at various forums to Renal Dieticians and Nephrology nurses and other health care professionals educating them on the concept and importance of probiotics in health and disease and the modulation of the gut microbiome.
Thank you for registering for the on-demand webinar: Enteric Dialysis® – No Longer Fiction, But a Reality!, sponsored by Kibow Biotech. A confirmation email will be sent shortly with access to the on-demand materials.